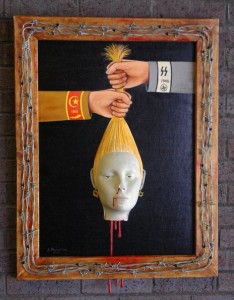 WATERTOWN, MA — The Armenian Library and Museum of America has a rich collection of illuminated manuscripts and a catalog of portrait photographs of some of the 20th century's leading figures, but the grisly paintings by Dr. Death himself, assisted-suicide advocate Dr. Jack Kevorkian, continue to be a draw, boston.com writes.
After a year of legal wrangling with the Kevorkian estate, the museum has managed to keep four of the 17 paintings by the late pathologist it had been holding. Under a settlement that was announced in October, the Kevorkian estate obtained the remainder of the paintings, and is expected to offer the pieces for sale at art galleries.
The museum plans to display its Kevorkian paintings at some point, but exactly when hasn't been determined. At least one of them, "1915 Genocide 1945," will be shown in April, when the museum commemorates the Armenian genocide, said Haig Der Manuelian, chairman of its board of trustees.
That painting, which links the killing of 1.5 million Armenians by the Ottoman Turkish empire during and after World War I, and the 6 million Jews killed by Nazi Germany three decades later, was the most important piece for the museum to hold onto, and why the organization was willing to engage in its first legal battle, Der Manuelian said.
"The reason why we were adamant about it was the one painting," he said. It resonates with the museum's goal of teaching the public about the Armenian genocide, he added. "As far as I was concerned, a lot of the paintings were of no relevance to our mission."
The painting shows the bloodied head of a woman held by two arms. On one sleeve is a Nazi uniform; the other is dressed in Ottoman Turkish garb. Kevorkian, the son of Armenian genocide survivors, is said to have used a mixture of human blood and paint in the piece.
The museum will also keep "The Gourmet," about the meaning of war, "The Double Cross of Justice," about the broken judicial system, and "Fa, la, la, la, la," which reflects on the commercialization of Christmas. The messages of all these the paintings are dark, and the images feature decapitated heads or skeletal bodies.