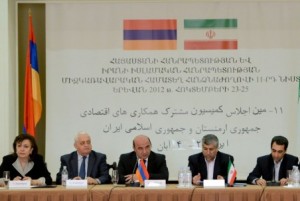 YEREVAN — The repeatedly postponed construction of a big hydroelectric plant on the Arax river marking Armenia's border with Iran will finally start next month, the energy ministers of the two neighboring states said on Thursday.
Energy Minister Armen Movsisian and his Iranian counterpart Majid Namjou made the announcement after wrapping up a two-day session of an Armenian-Iranian intergovernmental commission on economic cooperation in Yerevan.
"At Mr. Namjou's proposal, within the next 10-15 days we will hold the inauguration ceremony and the construction of the Meghri plant will get underway," Movsisian told a joint news conference. He said Namjou has personally helped to speed up the implementation of the project estimated to cost at least $330 million.
The Armenian and Iranian governments agreed to build the 130-megawatt facility about a decade ago but have not succeeded in getting the project off the drawing board until now. Movsisian announced the impending start of its construction by Iranian firms in July 2010. He later blamed "situations in Iran" for the delay.
Armenian and Iranian officials announced a new date for the launch of the project — late August — after Namjou's previous trip to Yerevan in June this year.
According to Armenian Energy Ministry sources, an Iranian company will build the plant and use all electricity generated by it at will for 15 years. The facility will then become property of Armenia, the sources told RFE/RL's Armenian service (Azatutyun.am).
Namjou complained about the repeated delays in the realization of this and other Armenian-Iranian energy deals, including the construction of a fuel pipeline, at the start of the commission meeting on Wednesday. He said on Thursday that he proposed that two sides set up a joint task force that would monitor the implementation of Armenian-Iranian agreements and quickly deal with emerging obstacles.
"I think that the creation of such a task force would greatly contribute to the implementation of those agreements," the Iranian minister told journalists. He said the Iranian government is ready to host the first meeting of that panel in Tehran soon.