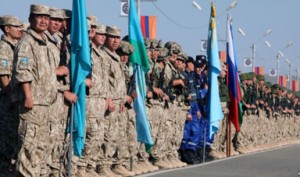 YEREVAN — The secretary general of the Collective Security Treaty Organization (CSTO) said on Tuesday that its recently established rapid reaction force is already capable of repelling an armed aggression against Armenia and other members of the Russian-led security pact.
"The Collective Operational Reaction Forces (CORF) is one of the main components that can effectively react to any challenges involving the use of force," said Nikolay Bordyuzha. "Since those forces comprise army units that means a localization of armed conflicts, that means a quick closure of borders in case the situation escalates."
Nikolay Bordyuzha spoke to journalists at the Marshal Bagramian training ground 40 kilometers west of Yerevan where about 2,000 CORF soldiers representing Russia, Belarus, Kazakhstan, Kyrgyzstan, Tajikistan and Armenia held military exercises for the fourth consecutive day.
"We are talking about a collective security system," Bordyuzha said. "It is built upon on a collective potential. That collective potential is now in Armenia and jointly accomplishing tasks. We are thereby learning to act together in case the situation becomes quite tense."
The CORF forces on Monday simulated a joint operation against "irregular armed groups" that invaded a CSTO member state. The CSTO command praised the "high degree of coordination" among them.
The CSTO united commander Major General Anatoly Yakovlev told a press conference Saturday, when the drills started, that the exercises were aimed to improve CSTO member states' administrative bodies and the participating troops would train in use of drones. In response to RFE/RL's question whether there are any possible scenarios developed should there be aggression against any of the member-states and how rapidly CSTO can react, Yakovlev said that joint defense will be the case.
"In each such event (largely depending on the circumstances) leaders of CSTO member-states will decide on the numerical strength of the Collective Operational Reaction Forces," he stated.