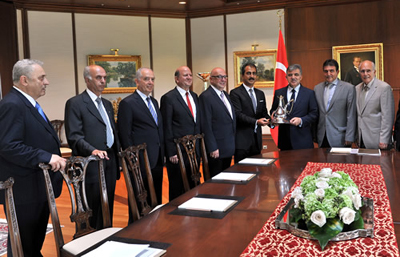 ISTANBUL — Turkish President Abdullah Gul received on Friday representatives of the ethnic minorities residing in the country.
According to Hurriyet, the meeting was attended by members of the Armenian, Greek, Assyrian and Bulgarian communities. The meeting was significant, as it represented the first time the leaders of minority communities together have been hosted by the president of Turkey.
The Armenian community was represented by the chief of the Holy Savior Hospital, Petros Shahinoglu and the director of the Armenian Catholic Church St. Hakob, Bernard Saribay. Syriac Orthodox Foundation's representative Sait Susin, Greek Foundation representative Andon Parisyanos, Jewish community representative Sami Herman and Bulgarian community representative Vasil Liyaze attended the meeting.
The head of the delegation, representative of the Minority Foundations, Laki Vingas, told reporters after the reception that they had thanked the president for signing the bill on foundations into law. He said the document was very important as it helped them return their rights.