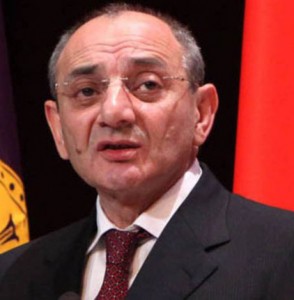 STEPANAKERT — Nagorno-Karabakh's President Bako Sahakian on Tuesday praised the presidential election campaign in the republic and insisted that he is untroubled by strong criticism from his main challenger.
"Those who are participating or monitoring the election campaign can conclude that the campaigning is taking place in quite civilized conditions," Sahakian told RFE/RL's Armenian service (Azatutyun.am) in an interview.
Vitali Balasanian, a retired army general and the main opposition presidential candidate, has criticized the Karabakh authorities' handling of the race. He has accused them of pressuring people to vote for Sahakian's reelection and trying to obstruct his campaign. Speaking to RFE/RL's Armenian service on Monday, Balasanian urged the authorities to ensure that Thursday's election is democratic.
Sahakian insisted that he is interested in a clean vote and has given corresponding instructions to Karabakh officials. "Even before the campaign I appealed, asked and demanded that those who are in charge of organizing the elections make sure that the pre-election campaign and the elections are a continuation of our successful electoral practices," he said.
The Karabakh leader also claimed to be unfazed by Balasanian's criticism of his five-year track record, saying that "Artsakh (Karabakh) needs an opposition just like other civilized countries do." "I believe that this is one of the best civilized means of ensuring that the authorities work better and be vigilant, and in this sense I attach a lot of importance to opposition activity," he said.
There were few signs of such activity before the start of the presidential race and Balasanian's decision to enter the fray. All three political parties holding seats in the self-proclaimed Nagorno-Karabakh Republic's parliament are represented in Sahakian's government and support his reelection bid.
The Nagorno Karabakh Republic Central Electoral Commission (CEC) has announced that there are 98,909 eligible voters for Thursday's presidential election.
Poling will take place from 8 a.m.-8 p.m. Thursday and will include a poling place in Yerevan, at the NKR Permanent Representation.