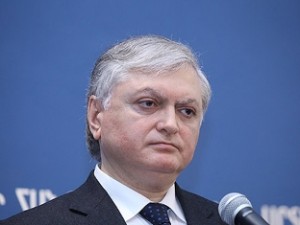 ARMENIA — The normalization of the Armenia-Turkey ties should have nothing to do with the Nagorno-Karabakh conflict settlement, Armenian FM Edward Nalbandian has said, commenting on a statement by his Turkish counterpart.
Turkish Foreign Minister Ahmet Davutoglu said recently that his country is preparing a three-step plan ahead of the 100th anniversary of Genocide, but he warned that its implementation would be possible provided Armenia liberates Karabakh. and Turkey starts cooperation with the Armenian Diaspora.
Objecting to Davutoglu's remark, Armenia's top diplomat said that the world community proposes instead ratifying the bilateral protocols without preconditions.
"Turkey failed, in the past 97 years, to take serious steps in this direction and confront its history. If it is going to act in the same manner in the coming three years, proposing a combination of steps that lead nowhere, it will not succeed," Nalbandian said.
"Instead of such combinations suggested by Turkey international community suggests another combination – ratification of protocols without any preconditions, implementation of those protocols without preconditions and avoid connect the settlement of Armenian-Turkish relations with Nagorno-Karabakh conflict" stated Armenian foreign minister.