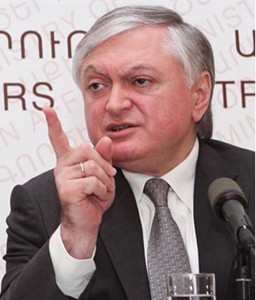 YEREVAN — Armenian Foreign Minister Edward Nalbandian issued remarks commenting on the statement released by the leaders of the OSCE Minsk Group co-chairing states on Nagorno-Karabakh.
In his statement Nalbandian said Armenia appreciates the efforts of the heads of the OSCE Minsk Group co-chairing states – the presidents of Russia, the United States and France – aimed at resolving the Karabakh conflict.
"The statement on the Karabakh conflict, adopted in Los Cabos by Presidents Vladimir Putin, Barack Obama and Francois Hollande, is the fourth statement of the heads of the three co-chairing states which can provide an impetus for the negotiations," he said adding Armenia is determined to achieve resolution of the Karabakh conflict only through peace talks.
"Just as Russia, the United States and France, we also regret that despite the calls contained in the statement adopted on May 26, 2011 in Deauville, the progress was not reached at the Kazan summit due to non-constructive, maximalist position of Azerbaijan.
Armenia, remaining committed to the arrangements which are reflected in the statement issued by the Presidents of Russia, Armenia and Azerbaijan on January 23, 2012 in Sochi, will continue the efforts aimed at finalizing the basic principles for the settlement," Nalbandian said.
Armenian FM also reiterated calls to respect the ceasefire agreement reached in May 1994 and avoid hostile rhetoric.
He added that Azerbaijan, unlike Armenia, continues to reject co-chairs' proposal on withdrawal of snipers from the contact line, creation of mechanisms to hold investigation into ceasefire violations and incidents.
"For the last time it was done a week ago during a visit of the OSCE Chairperson-in-Office to Baku. Azerbaijan not only rejects these proposals, but also violates the ceasefire regime, constantly organizing provocations.
Armenia, unlike Azerbaijan, repeatedly stated its readiness to continue negotiations on the basis of the statements issued by the heads of the co-chairing states in L'Aquila, Muskoka, Deauville, and I might add, in Los Cabos, in order to achieve settlement of the conflict," he concluded.