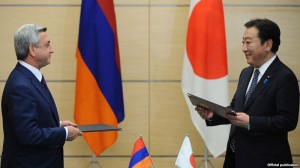 TOKYO — President Serzh Sarkisian met with Japanese Prime Minister Yoshihiko Noda on Wednesday during an official visit to Japan that focused on the development of bilateral ties and nuclear safety.
A joint statement signed by the two leaders after the talks said the Armenian government will use "the Japanese experience" in boosting the safety of operations of the nuclear power plant at Metsamor. It said Yerevan will specifically look into the "knowledge and lessons" learned from Japan's response to last year's explosions at the Fukushima Daiichi nuclear plant that followed a powerful earthquake.
"The prime minister of Japan pointed out that his country intends to share with the international community its experience in enhancing the safety of nuclear plants and the two sides stressed the importance of Armenia's cooperation with Japan for that purpose," Sarkisian's press office said in a separate press release.
The Fukushima disaster sparked renewed calls in and outside Armenia for Metsamor's closure. Local environmentalists argued that just like Japan, Armenia is situated in a seismically active region prone to catastrophic earthquakes.
Armenian government officials and nuclear experts dismissed such concerns, saying that Metsamor's Soviet-era reactor design is different from Fukushima's and that the facility is reliable enough to withstand a powerful earthquake.
Still, the Yerevan government responded to the Fukushima blasts by deciding in March 2011 to initiate a comprehensive international review of Metsamor's safety. The International Atomic Energy Agency (IAEA) subsequently sent ad hoc Operational Safety Review Team (OSART) to Armenia for a two-week inspection of the plant. The OSART concluded in June 2011 that the plant poses an "acceptable" level of risk to the environment.
The statement signed by Sarkisian and Noda said an Armenian government delegation will participate in an international conference on the fallout from the Fukushima disaster which Japan plans to hold in December.