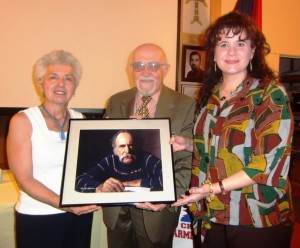 CLOVIS/FRESNO—The Charlie Keyan Armenian Community School celebrated the 104th birthday of acclaimed writer and native son of Fresno William Saroyan with a viewing of the award winning documentary Saroyan, the Man, the Writer. CKACS students and families welcomed the film's writer/director Paul Kalinian and his daughter and producer Dr. Susie Kalinian.
As described in his essay How I Shot Saroyan, photographer Paul Kalinian remembered how in 1976 he first met Saroyan at the studio of the Varaz Samuelian, the noted sculptor of Fresno's David of Sassoon statue. Saroyan at first refused to be photographed, telling Kalinian to "get lost." In the end, the photographer's persistence won out. Kalinian gained Saroyan's trust and, with his camera, captured the essence of the 67 year old author in a series of portraits. In 1991, one of the photographs from this collection was adapted into commemorative stamps in both the United States and Soviet Union.
The evening program included a translated recitation in Armenian of Saroyan's short story The Armenian and the Armenian by CKACS 5th and 6th graders. Younger students also read their own stories about Saroyan and their aspirations of becoming writers.
Winner of the 1995 Gold Award, Saroyan, the Man, the Writer is an excellent biographical account for both Saroyan aficionados and those unfamiliar with the life of the author, playwright, and humanitarian. In creating the film, the Kalinians gathered numerous photos and memorabilia of historical Fresno and Saroyan's career. These still images are complimented by home movies clips from his family life and travels to Armenia as well as by Susie Kalinian's touching recreations of Saroyan's childhood. Actor Mike Connor narrates the documentary, although a good portion of the film's audio is Saroyan himself—speaking in both English and Armenian in recorded interviews.
Following the film, the Kalinians' entertained questions from the students and parents and presented the school with one of the original Saroyan portraits from the 1976 album.