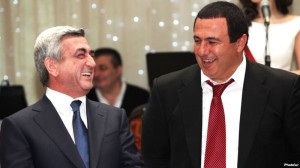 YEREVAN — The post-election political situation in Armenia took an unexpected turn Thursday when the Prosperous Armenia Party (PAP), President Serzh Sarkisian's main partner in the outgoing ruling coalition, announced that it will not join a new government that will be formed soon.
PAP leader Gagik Tsarukian said that his party, the official runner-up in this month's parliamentary elections, would not have sufficient power to deliver on "substantial changes" promised to Armenia if it were to become part of Sarkisian's new cabinet.
"As a result of parliamentary elections, Prosperous Armenia Party has received nearly half a million votes. These people voted for PAP, trusting us and demanding real, visible changes in the socio-economic life. As a result of the elections PAP does not have a constitutional possibility to form the government and to implement its programs. Based on the above, I officially declare that it is not advisable for Prosperous Armenia Party to participate in the formation of a coalition government," Tsarukian's statement reads.
PAP got 30 percent votes as a result of the parliamentary elections and will possess 11 more seats (37 instead of 26 lawmakers) at the National Assembly of the fifth convocation.
Tsarukian pointed to his pre-election assurances that he will "cherish the people's trust" even at the expense of personal "losses." "The PAP will continue to play a weighty role in our country's political life," he added. "We will have a highly constructive, balancing role and participation in the country's political-public life."
The announcement followed more that two weeks of behind-the-scenes consultations reportedly held by the PAP and President Serzh Sarkisian's Republican Party of Armenia (RPA). Coalition sources privy to those discussions said earlier this week that the two sides are close to striking a new power-sharing deal.
Tsarukian's statement also did not specify whom his party will support in Armenia's next presidential election due in February 2013. The PAP leader has been reluctant to publicly voice support for Sarkisian's reelection plans.
Today's announcement opens the door for speculation on whether former president Robert Kocharian – considered the "godfather" of PAP – will contest for president, as well as what role former Minister of Foreign Affairs Vartan Oskanian, who recently joined PAP will hold in the campaign that unofficially begins with today's statement by Tsarukian.