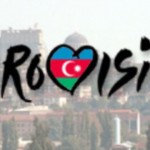 The European Broadcasting Union has imposed a fine on Armenia for withdrawing from "Eurovision-2012" song contest to be held later this month in Baku.
The European Broadcasting Union said Armenia would still have to pay the full fee required to participate in the contest, as well as an additional 50 percent of that amount as a fine.
Details about the amounts of money involved were not immediately available.
The European Broadcasting Union, which is responsible for managing Eurovision, also said Armenian public television was obliged to show the May 26 Eurovision finals live.
Otherwise, Armenia could be excluded from the 2013 Eurovision contest.