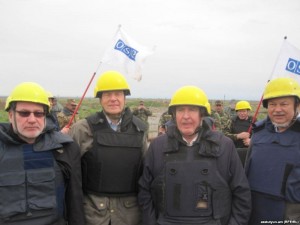 The Co-Chairs of the OSCE Minsk Group (Ambassadors Robert Bradtke of the United States, Igor Popov of the Russian Federation, and Jacques Faure of France) and Ambassador Andrzej Kasprzyk (Personal Representative of the OSCE Chairperson-in-Office) said on Tuesday that they have presented the parties to the Nagorno-Karabakh conflict with a plan of actions aimed at clearing the remaining hurdles to an Armenian-Azerbaijani framework peace accord.
The mediators said the unpublicized plan aims to "put into action" a joint statement that was issued by Armenia's and Azerbaijan's president at their January 23 meeting in Sochi, Russia.
In that statement, Presidents Serzh Sarkisian and Ilham Aliyev pledged to "accelerate the achievement of an agreement on the Basic Principles" of a Karabakh settlement put forward by the Minsk Group co-chairs.
"Building on the two Presidents' joint commitment to accelerate reaching agreement on the Basic Principles, the Co-Chairs proposed steps to assist the sides in furthering work on the framework for a comprehensive peace settlement," the mediators said in a joint statement issued in Baku at the end of their latest round of regional shuttle diplomacy. It was not clear if they have made fresh modifications in the text of the proposed peace deal.
The mediators began the regional tour on Friday with talks with Sarkisian in Yerevan and proceeded to Karabakh at the weekend. They met with Aliyev late on Monday and Azerbaijan's Foreign Minister Elmar Mammadyarov the next day.
In their statement, U.S. envoy Robert Bradtke, Russia's Igor Popov and France's Jacques Faure said they also discussed with the conflicting parties a draft "mechanism" for jointly investigating ceasefire violations along the Armenian-Azerbaijani border and the more volatile "line of contact" around Karabakh.
"In addition, the Co-Chairs discussed humanitarian and people-to-people contacts, which should be used to promote mutual understanding among peoples of the region, and not be politicized or manipulated to the detriment of the peace process," added the statement.