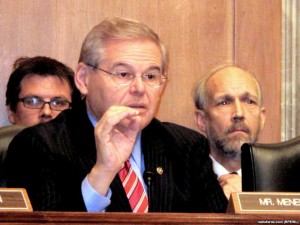 WASHINGTON, DC — Senator Robert Menendez (D-NJ) along with Senator Mark Kirk (R-IL) officially introduced a new Armenian Genocide Resolution (S.Res. 399) in the United States Senate on Tuesday.
The resolution is virtually identical with a bill that was approved by a key committee of the U.S. House of Representatives two years ago. Nancy Pelosi, the then House speaker who has long stood for Armenian genocide recognition, refrained from putting it to a full House vote siting insufficient votes to pass it.
"It is time for the United States to join the nineteen nations including Belgium, Canada, France, Italy and the European Union that have formally recognized the actions carried out by the Ottoman Empire from 1915 to 1923 as genocide," Senator Menendez said. "The Armenian Genocide is a historical fact and was one of the incidents upon which the Genocide Convention was predicated. Only by accurately acknowledging the crimes of the past can we ever hope to move forward in a legitimate manner and prevent such human rights crimes from happening in the future."
"The Armenian Genocide is well-documented and formally recognized by 11 NATO allies and the European Union. This resolution accurately characterizes the events of 1915-1923 as a genocide, honors the memory of the victims, and strengthens America's moral leadership on human rights and the prevention of mass atrocities around the world," said a spokesman for Senator Kirk.
The proposed legislation is due to be first discussed by the Senate Foreign Relations Committee headed by John Kerry, a former Democratic presidential candidate and longtime backer of such bills. Senate Majority Leader Harry Reid has also supported the Armenian-American community on the issue.
Still, observers believe that securing Senate approval for the resolution could prove even harder than pushing it through the House. Earlier this year, U.S. Secretary of State Hillary Clinton indicated the Obama administration's opposition to such measures.
Senators Barbara Boxer (D-CA), Michael Bennet (D-CO), Dianne Feinstein (D-CA), Carl Levin (D-MI), Joseph Lieberman (I-CT), Jack Reed (D-RI), and Sheldon Whitehouse (D-RI) joined as original cosponsors. In addition, Senator Charles Schumer (D-NY), Chair of the Democratic Policy Committee, has also agreed to cosponsor the bill.