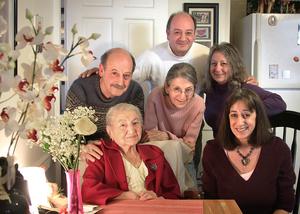 By Sue Scheible
The Patriot Ledger
WEYMOUTH, MA — The photo card that Asdghig "Starrie" Alemian's children gave family and friends for her 102nd birthday celebration this weekend shows a bold-looking young woman sitting in a tree in 1931 in Detroit.
"She has a wonderfully spirited look," her son Alan noted Sunday.
At age 21, Alemian had already experienced far more heartache and challenges than most ever imagine. She was a survivor of the 1915 Armenian genocide, after losing both parents. She made a new start in this country when an uncle in Weymouth brought her here from a Syrian orphanage.
Alemian turned 102 on Thursday and as 70 people gathered to honor her long life and her courage, she was in her element.
"She's in party mode and enjoying every minute of it," her daughter Claire Alemian said at the home they share.
With a radiant smile and finely chiseled features, "Starrie" Alemian proclaimed, "I have no secret!" and burst into a laugh, when asked "the longevity question" for possibly the 102nd time in the past two days. Then she added, "I never wore makeup, not even at my wedding!"
On Saturday, she celebrated for five hours at The Red Parrot in Hull with five generations, good food, Armenian music and dancing. Although she doesn't get up and dance anymore, she clapped up a storm.
Sunday morning brought more than 40 family members to her son's house for breakfast.
"Our mother has always been a very courageous person who had a real spirit of determination," Alan Alemian said.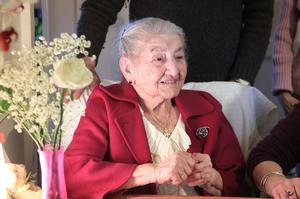 In Armenian, her name is a term of endearment meaning "Little Star."
Alemian still votes in every election and will be interviewed by the Weymouth Historical Society. She has been active in the Armenian community in Watertown, and in 2007 she was honored at a State House ceremony recognizing victims of the 1915 Armenian genocide.
Her memory remains sharp for the details of those tragic early years, and once she starts talking, the recollections pour forth. But for Alemian and her family, it is the other aspects of her life that she now likes to focus on.
That includes her seven children, five still living, that she and her late husband, Sarkis, raised while running Alemian's Delicatessen in Jackson Square and then Alemian's Package Store. Her immense pride in 12 grandchildren, 18 great-grandchildren and three great-great- grandchildren. A lifetime of hard work and skills, including the needlepoint she learned to do in the Syrian orphanage. You can see the delicate handiwork in the family home nearby.
While she no longer lives there, decades of family photos fill the rooms, along with the family piano her daughter Sylvia played. Alemian lives across the street with her daughter Claire and she has constant company. She remains strong and well in the neighborhood where she created her new life in this country.
In 1922, an uncle, Garabed, brought her to Weymouth and she has lived there ever since, except for two years with cousins in Worcester.
At age 16, four years after arriving, she married an Armenian from her hometown, Sarkis Alemian, and they set their sights on building their new life together, working long hours at a factory and then at their family businesses.
Within 10 years, they bought their first house and as the years went by, they invested in real estate, kept the family close by and welcomed other Armenians.
"My mother raised so many children other than her own," Claire Alemian said.
Her husband died in 1982 at age 82, and her two oldest sons, Edward Jr. and Haig, died in their late 30s. Her other five – Sylvia, Alan, Susan, Stephan and Claire – remain nearby.
"My mother has a strong sense of Armenia identity," Alan Alemian said, "but she loves this country and thinks of it as her home. It gave her safe haven."