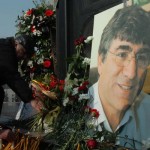 ANKARA — Negligence by Turkish state officials led to the 2007 killing of prominent Turkish-Armenian journalist Hrant Dink, and a flawed murder investigation undermined public trust in the security services, a report commissioned by the president of Turkey has concluded.
The Turkish Presidency's State Supervisory Council on Monday recommended that top police and gendarmerie officials be prosecuted due to their alleged negligence.
Security officials failed to protect Dink despite warnings of a plot to kill him and the subsequent legal process exposed widespread structural problems and the need for reforms, the report said.
Last month, an Istanbul court sentenced a man to life in prison for Dink's murder but acquitted 17 other defendants, sparking large protests and criticism from rights groups.
\\The investigation into the murder of Dink, former editor of the bilingual Turkish-Armenian weekly Agos and Turkey's best known Armenian voice abroad, was viewed as a test of democracy and human rights in European Union candidate Turkey.
\\President Abdullah Gul ordered Turkey's State Supervisory Council (DDK) to investigate the case following accusations from Dink's family, lawyers and rights groups that state officials had been complicit in the murder.
In a 650-page report, the conclusion of which was posted on the president's website late on Monday, the DDK said security forces failed to act on tip-offs about a plan to murder Dink and called for the negligent officials to be investigated and tried.
It said the way the case had been handled had undermined public confidence in the judicial system.
"On the one hand, a result to a case that does not satisfy the public conscience has emerged and, on the other hand, the credibility of all the public institutions has been brought into question," the DDK said in the report.
In 2010, the European Court of Human Rights ordered Turkish authorities to pay 100,000 euros ($132,600) to Dink's family in compensation, saying authorities had failed to protect Dink even though they knew ultra-nationalists were plotting to kill him.
Seven security officials have already been convicted for failing to relay information on the plot that could have prevented the murder.
In a statement ahead of last month's verdict, Amnesty International said authorities had still not investigated the full circumstances behind Dink's murder.