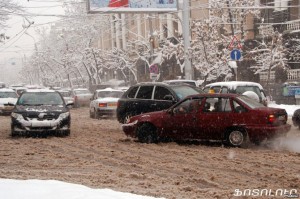 YEREVAN — An unusually heavy snowfall temporarily closed Armenia's main international airport, blocked highways across the country and disrupted public transportation in Yerevan on Friday.
The snowfall, which began on Thursday evening and intensified overnight, forced the administration of Yerevan's Zvartnots airport to cancel or delay all flights early in the morning. The flight service with the outside world partly resumed late in the afternoon. Similar disruptions were reported at the much smaller airport of Armenia's second largest city of Gyumri.
According to the Armenian Ministry of Emergency Situations, several mountain passes and highway sections across the country were impassable as of early afternoon. The ministry warned of blizzard dangers on other roads, including a section of the Yerevan-Gyumri highway. It said authorities are doing their best to reopen all roads to traffic.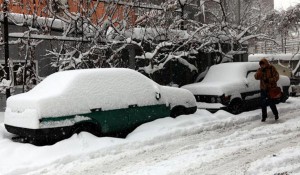 The snowfall also caused major disruptions in Yerevan. It particularly complicated transport communication between downtown Yerevan and the city's northern districts located at higher altitudes.
There were chaotic scenes in the morning on one major street leading to the Nor Nork district, with hundreds of cars stuck in a thick layer of snow. Driving uphill was practically impossible in those circumstances. "They are probably waiting for the snowfall to stop before cleaning up the road," one driver told RFE/RL's Armenian service (Azatutyun.am), referring to the municipal authorities.
The heavy snow also affected public transportation, with significantly fewer buses and minibuses ferrying passengers throughout the day. Scores of commuters were left stranded at busy stops as a result.