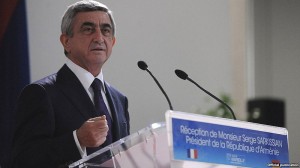 MARSEILLE — President Serzh Sarkisian said Turkey must face its history urging it to "repent" for the World War One-era massacres of Armenians in the Ottoman Empire and expressed confidence that Ankara will eventually recognize them as genocide.
"We believe that Turkey must repent," he said during a visit to France's second largest city of Marseille late on Wednesday. "That is neither a precondition nor a desire to exact revenge. Turkey must come face to face with its history."
"One day Turkey's leadership will find the strength to reassess its approaches to the Armenian Genocide," Sarkisian said, speaking at an official reception organized in his honor by Marseille's Mayor Jean-Claude Gaudin and attended by prominent members of the local Armenian community.
"Sooner or later Turkey, which considers itself a European country, will have a truly European leadership that will bow its head at the Tsitsernakabert [genocide memorial in Yerevan,]" claimed the Armenian leader. "The sooner the better, but that is up to the Turkish people."
"Our position has not changed. We are ready to have relations with Turkey as a neighboring state," he said brining an example of Germany and Poland. "Chancellor Willy Brandt bent his knee in the Warsaw Ghetto admitting his country's guilt," Sarkisian said.
Sarkisian had words of praise to French president Sarkozy, "the recent visit of President Nicolas Sarkozy to Yerevan was a historic visit indeed, and no other state leader have spoken the words about our nation's pains, related to the Armenian-Turkish relations and the Genocide, and we should be grateful to the wise President of this glorious country." he said
In his speech, Sarkisian did not mention the future of the Turkish-Armenian normalization agreements signed two years ago. Earlier this year, he threatened to withdraw Yerevan's signature from the agreements if Ankara continues to make their parliamentary ratification contingent on the resolution of the Nagorno-Karabakh conflict.