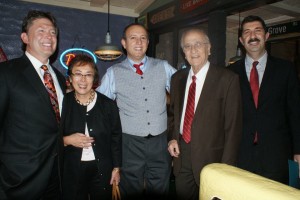 The Armenian Community Coalition of Pasadena (ACCP) held its annual Christmas Party on Wednesday evening, at Robin's BBQ Grill on Rosemead Blvd.
A diverse multi-cultural group of community leaders were among the guests invited to what was dubbed as the "A-List" party organized by the ACCP. Mayor Bill Bogaard, Senator Carol Liu, South Pasadena mayor Michael Cacciotti, Assemblyman Anthony Portantino, Former mayor of Pasadena Bill Paparian, and many other elected officials and community leaders created a "who's who" crowd of Pasadena. The party was like a Hollywood awards show with "celebrity" status individuals. Attendees had an exclusive opportunity to rub shoulders and chat with leaders of communities in a cordial and respectful atmosphere. "We met many old friends, and met some new ones, a very fine event indeed" said active community member German Barrero, who attended the event with his wife Rosie.
Chris Chahinian, chairman of the ACCP and the San Gabriel Valley Armenian American Democrats – co organizers of the event- was very happy with the positive outcome of the evening. "All our communities felt united tonight" he said. "We all have our differences and some disagreement on some issue or another, but coming together at such pleasant events heals old wounds and creates opportunities to mend friendships and alliances. We are proud to have succeeded in creating that opportunity and bringing all our communities together for the general advantage of Pasadena as a whole".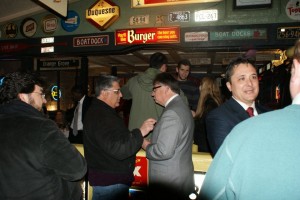 As an annual tradition, ten community members were honored with special certificates of recognition. The most important award was the selection of "Man of the Year", presented to Mr. Robin Salzer for his relentless efforts, dedication, and commitment to improve Pasadena.
Raffle prizes were drawn and the grand prize was a pair of prime seats to the Rose Parade.
The ACCP Board thanked everyone and invited everyone again to attend next year's party.