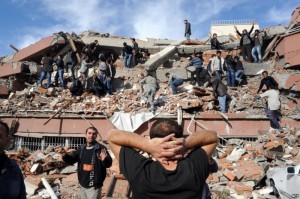 VAN — A powerful 7.2-magnitude earthquake struck eastern Turkey on Sunday, killing at least 200 people and sparking widespread panic as it collapsed dozens of buildings into piles of twisted steel and chunks of concrete.
Tens of thousands of residents fled into the streets running, screaming and trying to reach relatives on cell phones. As the full extent of the damage became clear, desperate survivors dug into the rubble with their bare hands, trying to rescue the trapped and the injured.
The quake hit Turkey's mountainous eastern region at 1:41 p.m. with an epicenter in the village of Tabanli, 10 miles (17 kilometers) from Van, according to the U.S. Geological Survey.
The hardest hit was Ercis, a city of 75,000 close to the Iranian border, which lies on the Ercis Fault in one of Turkey's most earthquake-prone zones. Van, some 55 miles (90 kilometers) to the south, also suffered substantial damage.
As many as 80 buildings collapsed in Ercis, including a dormitory, and 10 buildings collapsed in Van, the Turkish Red Crescent said. Some highways also caved in, CNN-Turk television reported.
In Van, terrified residents spilled into the streets screaming. Rescue workers and residents scrambled, using only their hands and basic shovels, to save those who were trapped.
Residents sobbed outside the ruins of one flattened eight-story building, hoping that missing relatives would be rescued.
Aftershocks continued after the initial quake.
Tremors were felt throughout eastern Turkey and as far away as Armenia, Georgia, Iran, Iraq and Syria.
With the epicenter of the quake located only 150 kilometers south of the Turkish-Armenian border, strong and unusually long tremors were also felt in much of Armenia and Yerevan in particular. They triggered panic in the Armenian capital where thousands of people left their homes and spent hours in courtyards and streets. No casualties or devastation were reported by the Armenian authorities.
The US Geological Survey estimated that more than 19.1 million people may have felt the earthquake.
Turkey Declines Aid From Armenia
Within hours after the tremors, Armenian President Serzh Sarkisian cabled his Turkish counterpart Abdullah Gul from Moscow, where he is now on a state visit, expressing his condolences and offering Armenia's assistance.
PM Recep Tayyip Erdogan has thanked Armenia for its offer to render assistance. According to wire services, Erdogan said Turkey is capable of surmounting the tremor's effects on its own, but at the same time thanked all those countries, including Armenia and Israel, that have offered to provide assistance.