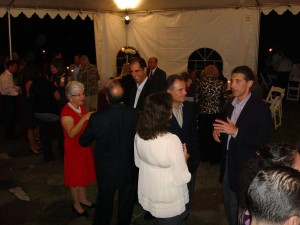 NEW ROCHELLE, NY – A unique and elegant benefit reception will once again be held on the scenic grounds of St. Nersess Armenian Seminary in New Rochelle, NY. Details are being finalized now for the fourth annual "Evening Under the Stars" on Saturday, September 24.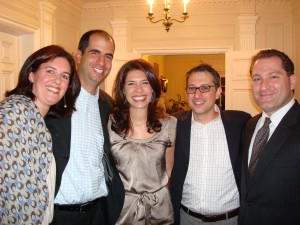 "This gathering provides the opportunity to support the most vital institution for the future of the Armenian Church in North America," said V. Rev. Fr. Daniel Findikyan, Seminary Dean, adding, "Old friends and new come together to mix and mingle while learning about the ongoing and future endeavors of St. Nersess. This year is especially significant as the Seminary is in the midst of its 50th anniversary commemoration."
Last year's event drew nearly 150 people who gathered under an elegant candlelit tent off the back patio of the Seminary building.
One first-time attendee, Mona Khorozian of Fort Lee, NJ, had nothing but praise for the event. "I thought the evening was wonderful. There was a very relaxed atmosphere with a host of dedicated people that were so welcoming. I felt that it was family I was spending the evening with." Mona, and her husband Raffi, have already committed to attending this year's reception.
Donation per person is $100 and includes delicious hors d'oeuvres, cocktails, music and more. This benefit reception will begin at 7 p.m. with guests being greeted and served by college-aged and young professional volunteers who proudly have attended recent St. Nersess Summer Conferences. Those enjoying the evening can look forward to hearing from these young people as they, as well as the Seminary Dean and Board members speak about the importance of the only Seminary of the Armenian Church in the western world.
Other highlights of this year's reception include an auction of several one-of-a-kind items, such as prime New York Giant tickets provided by Seminary Board member Steve Mekenian; a stunning gold-star necklace donated by Mirijohn Givelekian of Royal Jewels in Rye, NY; and "Dinner with the Dean" offered by Fr. Findikyan. More details on these and the other exclusive auction items offered can be found online at www.stnersess.edu, where you may also place your bid. Final bids will be taken up until 9:30 p.m. on Saturday, September 24 during the "Evening Under the Stars" with the highest bidder announced at that time.
Hosts are also being sought to help underwrite the costs for this event. If you are interested in finding out more of what that involves, or to rsvp to attend this year's reception, please visit www.stnersess.edu or contact 914-636-2003.