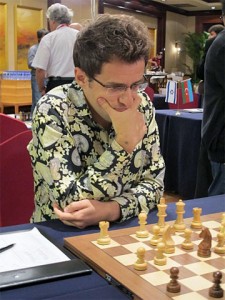 NINGBO, CHINA — The Armenian team beat India 2.5 – 1.5 in the 6th round of the World Team Chess Championship 2011 in Ningbo, China.
Levon Aronian scored the only victory in the match with Indians and Sergey Movsisyan, Vladimir Hakobyan and Gabriel Sargsyan ended their matches in a draw. The Armenian team tops the standings with 10 points.
Chief rivals of Armenia in the championship, Russia and Hungary ended their matches in draws and have 8 points each. Match between Israel and Azerbaijan also ended in a draw, 2 – 2. The Chinese defeated Egypt 3.5 – 0.5.
In 7th round on Sunday Armenia will compete with Hungary.
Day Six results
Russia 2.0 – 2.0 Ukraine
Israel 2.0 – 2.0 Azerbaijan
USA 2.0 – 2.0 Hungary
Armenia 2.5 – 1.5 India
Egypt 0.5 – 3.5 China
Rank after round 6
Rank Team Games Win Tie Loss Match Points Points
1 Armenia 6 4 2 0 10 16.0
2 Russia 6 3 2 1 8 14.0
3 Hungary 6 3 2 1 8 13.5
4 China 6 3 1 2 7 14.5
5 Ukraine 6 3 1 2 7 12.5
6 Azerbaijan 6 2 2 2 6 13.0
7 USA 6 2 2 2 6 12.0
8 Israel 6 2 1 3 5 10.0
9 India 6 1 1 4 3 9.5
10 Egypt 6 0 0 6 0 5.0
(Match Points: 2 for win 1 for tie)