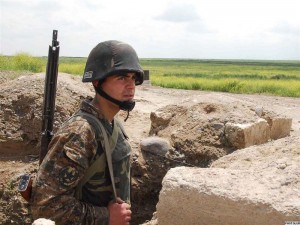 Armenia to 'Take Punitive Actions' on Line of Contact
YEREVAN — Armenia accused Azeri forces on Saturday of shooting dead three Armenian soldiers in the last 48 hours on the frontline of Nagorno-Karabakh, where tensions have raised fears of war.
The Armenian Foreign Ministry said Azeri snipers had shot dead three soldiers and wounded two on the Karabakh frontline, in the past two days.
"This behavior deserves the most severe condemnation by the international community," the ministry said in a statement in English.
A statement released by Karabakh's Defense Army on Friday condemned actions by Azerbaijani Armed Forces, adding that such provocations by the Azeri side have become frequent recently.
It also said that the sabotage actions by Azeri forces across the Line of Contact come to prove that apart from not being committed to the implementation of all the agreements reached at various meetings at the international level and aimed at maintaining the ceasefire regime, Baku "has rendered a more impudent and unbridled nature to its aggressive initiatives".
Armenia's top military brass has reportedly decided to take measures across the Line of Contact with Azerbaijan to prevent "acts of sabotage" by Azeri front troops, a Defense Ministry source has said.
Speaking to Tert.am on condition of anonymity, the source said Armenia's Defense Ministry is planning "large-scale punitive" actions on the Line of Contact that are aimed at causing three times as much damage to Azerbaijani side.