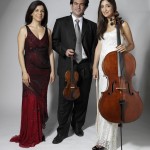 The Sima Trio will present a special concert at St. Leon Cathedral on Thursday, April 7, 2011. This event is being presented under the auspices of His Eminence Archbishop Hovnan Derderian, Primate of the Western Diocese and organized by the Stewardship Committee.
Praised for their powerful and heartfelt interpretations of classical and ethnic repertoire, the Sima Trio is quickly becoming one of the leading trios of its generation. Connected by their Armenian heritage, the members of this New York based ensemble have studied at such places as Juilliard, Yale, Real Conservatorio Superior De Madrid, and Manhattan School of Music.
The group is composed of violinist Sami Merdinian, cellist, Ani Kalayjian, and pianist Sofia Melikyan. They have performed extensively both collectively and individually throughout the United States, Europe, South America and Armenia including venues such as Carnegie Hall, Teatro Colon, Palau de la Musica in Barcelona and Yerevan Philharmonic Hall winning many competitions and prizes along the way.
The Sima Trio is coming to Southern California for the express purpose of presenting their program of classical and Armenian music for the benefit of the Diocesan Stewardship Program which has been charged with the mission of identifying, educating and preparing young men for the priesthood.
In addition to the Sima Trio, Garineh Avakian will add her lovely operatic voice to the evening's musical program with her performance of several Armenian songs and sharagans. Avakian has studied at the San Francisco Conservatory of Music and USC's Thornton School of Music.