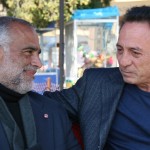 On Tuesday March 29, 2011, Social Democratic Hunchakian Party Central Committee Board Chairman Setrak Adjemian visited the leader of the Zharangutyun (Heritage) party Raffi Hovannisian on the 15th day of his hunger strike against the Armenian government.
After a warm and jovial conversation, the two discussed the current political and social state of affairs in Armenia. Mr. Adjemian urged Hovannisian to cease his hunger strike. "All of the issues that you have raised as the cause for your hunger strike, are also issues of grave concern to the Hunchakian party, yet the status of your health is also of concern to us. We feel that it would be more proper to continue your parliamentary work; the people's mandate, and address the issues that concerns us all; nothing is as important as your health, without it you cannot continue to fight for these issues we hold dear." said Mr. Adjemian.
Hovannisian in turn thanked Mr. Adjemian for his kind words and concerns but indicated that he will continue "as long as my will allows."
Hovannisian began what he calls his "freedom fast" on March 15 in protest against the state of affairs in Armenia and the government's perceived failure to address problems facing the country. He has indicated that the holding of snap presidential and parliamentary elections is among "radical solutions" sought by him and his party.