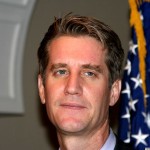 BAKU — Matthew Bryza, the U.S. ambassador to Azerbaijan, has denounced Azerbaijan's threats to shoot down civilian planes flying to Nagorno-Karabakh if the sole airport in the disputed region reopens as planned this spring.
In a weekend interview with RFE/RL's Azerbaijani service, Bryza also reaffirmed Washington's strong opposition to possible attempts at a military solution to the Karabakh conflict.
"The threat or use of force, including against civilian aircraft that pose no threat themselves, is unacceptable, and runs counter to commitments made by the presidents of Azerbaijan and Armenia to seek a peaceful, negotiated settlement," he said. "We urge the sides to work together to resolve all issues of commercial aviation safety prior to the planned opening of a new airport in Nagorno-Karabakh."
The airport located 8 kilometers east of Stepanakert is currently undergoing capital reconstruction that began last year. It is due to be inaugurated on May 9 for the first commercial flights between Karabakh and Armenia in two decades.
Arif Mammadov, the director of Azerbaijan's Civil Aviation Administration, said last week that his government has formally notified the International Civil Aviation Organization (ICAO) that it does not authorize any flights to and from Karabakh. He warned that defiance of that band could lead to "the physical destruction of airplanes landing in that territory."
The Nagorno-Karabakh Republic (NKR) leadership condemned the threat and warned that any attempt to thwart the planned flights would meet with an "adequate response" from the Karabakh Armenian military. It said the reopening of the airport will go ahead as planned.
Bryza, who previously served as Washington's chief Karabakh negotiator, also expressed concern about deadly shootouts along the "line of contact" around Karabakh that continued even after the March 5 meeting in Russia of the Armenian and Azerbaijani presidents. He said a joint statement signed by the two leaders and Russian President Dmitry Medvedev commits the two sides to a "peaceful, negotiated settlement of the conflict."
"Any such death is a tragedy, which underscores in powerful human terms why the use of force must be condemned. As the co-chairs [of the OSCE Minsk Group] have repeatedly stated, there is no military solution of the Nagorno-Karabakh conflict," added Bryza.