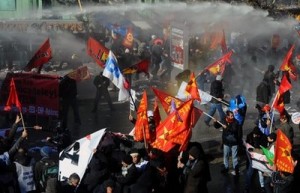 ANKARA — The Associated Press reports that police in Ankara broke up a march of a several thousand irate workers heading for the Turkish Parliament today.
The workers were protesting proposed government legislation they believe will strip them of many of their rights. Turkish riot police used pepper spray and water cannons to stop the crowd bent on marching to Parliament. The AP report states that workers responded with sticks, stones and eggs hurled at the cops.
The proposed legislation, opposed by Turkish trade unions, would allow employers to relocate some workers against their will, make workers, not employers, financially responsible for health insurance premiums, and allow employers to employ interns and apprentices for four months without pay.