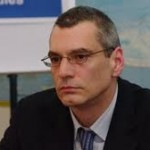 YEREVAN — Signing of a new ruling coalition memorandum only gave an impetus to increase confrontation between the ruling political force, said Richard Giragosian, the head of the Armenian Center for National and International Studies (ACNIS).
Armenia's ruling coalition: Republican Party of Armenia (RPA), Prosperous Armenia Party (PAP), and Orinats Yerkir Party (the Rule of Law), has signed a memorandum envisaging joint participation in the 2012 parliamentary elections and the support for a common candidate in the 2013 presidential election.
Talking to Armenian News-NEWS.am, the expert said the conflict between ruling forces will increase with approaching election. It is quite possible the new coalition memorandum will not even pass the test of election. "Not a single new document can solve deep-rooted problems. It is like an unnatural marriage – divorce proceedings have started with the signing of a marriage contract," ", he said, adding fortunately no children were born in this absurd marriage.
At the same time Giragosian drew attention to the timing, stressing that in fact signing of the document is conditioned by foreign policy processes, not domestic ones.
"It was important to sign this document ahead of trilateral meeting between Armenian, Russian and Azerbaijani leaders over Nagorno-Karabakh, as the current political situation in Armenia, struggle between the ruling powers is weakening the republic in the eyes of the OSCE Minsk Group Co-Chairs and Azerbaijan. Signing of a new coalition memorandum was a signal to the international community that the Armenian authorities control the situation in the republic," he added.
However, he pointed out the negative side of the document, stressing that it is aimed at determining fate of election. "Interestingly a new coalition memo does not specify the names, it says only about intention to support the incumbent president of Armenia. I believe not specifying names was rather a psychological trick to persuade the parties to sign a document," the expert concluded.