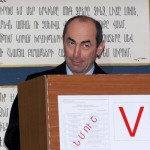 By John Hughes
ArmeniaNow Chief Editor
Now that the former president, who upon giving up office three years ago said he wasn't about to head to the rocking chair, has spoken, what has he really said? Whatever his message, it likely lies between the lines rather than on the screen or the page collected from his surprise interview with Mediamax.
Do your own conjuring – as nearly every person who follows Armenian politics surely must be – and you will reach conclusions additional or contrary to the ones here. One thing appears obvious: The former president has inclinations toward being the future president and he won't mind bullying his way to the chair if necessary.
What he said: "By arrangement with (then) Prime Minister Andranik Margaryan, and later, with Serzh Sargsyan, I recommended to many successful heads of executive bodies that they join the Republican Party to strengthen its human resource capacity. By the way, many of them are included in the governing bodies of the party. . . The RPA election ticket for the parliamentary elections of 2003 and 2007 was agreed with me name by name."
Possible meaning: Kocharyan hand-picked the principals who are now running Sargsyan's government and playing supporting roles in the parliament and in the Republican Party.
What he said: ". . . some politicians, unfortunately, have a very short memory."
Possible meaning: While enjoying the power of office, don't forget who put you where you are.
What he said: "The need for fair political competition in the upcoming parliamentary elections [scheduled for 2012] seems to be an imperative to me."
Possible meaning: Kocharyan, who benefited from elections as blatantly unfair as any in Armenia, is himself among politicians who "have a very short memory".
At its congress this weekend the junior-coalition party Prosperous Armenia has a platform from which it could give its belated endorsement to President Serzh Sargsyan, two years ahead of when he will need it. Some here believe it more likely, however, that PAP will remain uncommitted, while it weighs options for how to most effectively maneuver the return of Robert Kocharyan.
For those whose memories are not as short as the accused forgetfulness of parliament members enjoying power today that was put in their hands by Kocharyan, there are 10 reasons why his comeback is a chilling prospect.
The reasons have been etched into faces of still-grieving and betrayed families and carved onto 10 tombstones with death dates on or about March 1, 2008. They are not Kocaharyan's only legacy (oh, and remember Poghos Poghosyan?) nor are they his alone.
Before there is any "arbitrating" there ought to be some haunting, shared by the current president and the first president Levon Ter-Petrosyan – for if Sargsyan and before him Kocharyan are now Ter-Petrosyan's nemesis, they were first his protégés, brought from Karabakh to Yerevan, where their Komsomol upbringing clashed with the need to be republicans, turning them into anchors in the quest for human-rights democracy, when what Armenia's Ship of State needed was a rudder.
Indeed, the 2012-2013 campaign has begun and is likely to take on added dimension when PAP convenes this weekend. The campaign is not likely, though, to take on added hope, until new faces replace the familiar ones.
When, on February 18, the "opposition" collects its tired self in front of Matenadaran, failures of the past will outnumber prospects for the future. Stepan Demirchyan and Aram Sargsyan will stand on the shoulders of ghosts in an attempt to rise above obscurity, but will only reach the level of irrelevance. Pensioners will punch the air with arthritic fists and calls will be made to release a jailed provocateur who masqueraded as a journalist. Raffi Hovannisian – still Armenia's best hope for something resembling what it needs – will likely have the good judgment to keep his distance. And somewhere – probably in an office on Northern Avenue – former foreign minister Vartan Oskanian will prepare a scouting report of possibilities to pitch to west-leaning potential supporters.
The crowd will chant the opposition slogan "LTP", but in so doing might just as well shout "RIP". It will call the current administration "illegitimate" and will vow to unseat a president who will as surely stay "seated" as the stone figure of Mesrop Mashtots above whom the rally cry will ring.
Same old story. Same old song. It goes alright, till it goes all wrong . . .
This will pass as Armenia's version of political vibrancy for the next two years, and unless an unexpected option comes along, the best Armenia can do is be thankful that at least Serzh Sargsyan's performance as president has been better than the stealing, bribing, intimidating performance of his party that put him there.
ArmeniaNow.com