epress.am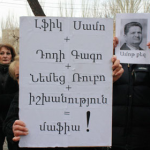 Yerevan's street vendors held the next round of protests in front of the public radio building in Armenia's capital today, asking TV host Gevorg Altunyan to apologize to them.
According to them, during the program Tesankyun ("View") broadcast on Armenian public television (H1), which Altunyan hosts, he called the street vendors "Gikors," after the popular Hovhannes Tumanyan poem "Gikor," in which a village boy (Gikor) meets his tragic fate when he is sent to the city (Tbilisi, Georgia) by his father to work for a rich trader, Bazaz Artem. Noting that street trade over the years has become a tool which politicians use to increase their ratings, Altunyan had said on air that it's repulsive when politicians try to take advantage of vendors' protest for their own purposes.
Protestors today were demanding objective and daily coverage from Armenia's Public TV and its directors, "because you are obligated to present the truth on the fate of a few thousand people," according to a statement issued by the group.
Protestors were carrying signs and placards on which it said, "Armenians are being persecuted in their homeland," "We are going to re-conquer our rights at any price," and "Lfik Samo + Dodi Gago + Nemets Rubo + authorities = mafia." (Note, "Lfik Samo" refers to Yerevan City CEO and Armenian MP Samvel Aleksanyan, "Dodi Gago" refers to notorious businessman and Armenian MP Gagik Tsarukyan and "Nemets Rubo" refers to Football Federation of Armenia President and Armenian MP Ruben Hayrapetyan.)
Street traders then decided to continue their protest outside supermarkets in Yerevan and marched over to the nearby Yerevan City.
Arriving on scene without incident, protestors blocked the supermarket entrance for almost half an hour and were shouting, "Here, welcome."
"If they're calling us Gikors, then we've come to play Gikor at the door of the Bazaz Artems and honorable beggars. Come, do your shopping at Lfik Samo's [establishment], make these mafiosos richer," protestors shouted.
A woman crossing the street, seeing the protest, approached the protestors, supporting their disobedience. "We have to grab stones and through them on their heads, it's enough, they're getting on my nerves… it's been 10 years we've been suffering at the hands of these people," she shouted, irritated.
From Yerevan City, the protestors moved toward the SAS supermarket at the intersection of Amiryan St. and Mashtots Blvd. to hold a similar protest. Store employees asked protestors to stop their demonstration; however, they continued only until that time when they chose to call it a day.
Note, there was no intervention on the part of the police today, unlike in previous protests.