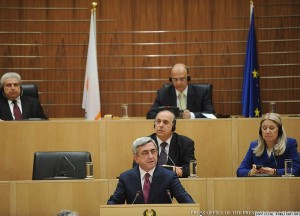 NICOSIA — President Sarkisian accused Turkey of reversing its rapprochement with Armenia and voiced strong opposition to Ankara's perceived efforts to take on a leadership role in the region as he paid a state visit to Cyprus on Monday.
In a speech delivered in the Cyprus parliament, Sarkisian also condemned continuing Turkish occupation of a big chunk of the island and unequivocally endorsed its Greek-dominated government's position on the unresolved conflict.
"With its contradictory posture, inconsistent statements and groundless manipulation of the [Turkish-Armenian normalization] process, Turkey destroyed it," he said. "Turkey backed away from its commitments and not only failed to ratify the signed protocols but also reverted to its old positions adopted before the process."
Sarkisian denounced the current Turkish government's assertive foreign policy as "neo-Ottoman" imperialist designs aimed at forcing Turkey's neighbors into submission. "What had the Ottoman Empire given the peoples under its yoke apart from massacres, tyranny and plunder?" he said.
"A country that has kept the border with Armenia closed since its independence under different pretexts and has been blackmailing my people can not aspire to regional leadership," he declared.
The unusually scathing remarks reflected Sarkisian's frustration with Turkey's refusal to unconditionally ratify the Turkish-Armenian protocols envisaging the establishment of diplomatic relations between the two neighboring states and the opening of their border. Ankara has made that contingent on a resolution of the Nagorno-Karabakh conflict acceptable to Azerbaijan.
Addressing Greek Cypriot lawmakers, Sarkisian said that Yerevan has never set any preconditions for normalizing Turkish-Armenian relations despite having "more than sufficient moral and legal grounds" to do that. He singled out successive Armenian governments' readiness to improve bilateral ties without Turkish recognition of the World War One-era massacres in the Ottoman Empire as genocide.
The Armenian leader emphasized the fact that the Cypriot parliament was one of the first legislatures to pass in 1982 a resolution recognizing the genocide. He went to express his country's solidarity with the Greek Cypriots in their decades-long conflict with the Turks.
"Armenia has never accepted and will never accept any attempt to partition brotherly Cyprus," Sarkisian declared. "We have never come and will never come to terms with the occupation of this friendly country's north."
"Armenians and Cypriots are not only friends and brothers but also natural allies, and we are faithful to that alliance," he said.
A joint declaration issued with Cyprus President Dimitris Christofias after their talks in Nicosia, Sarkisian likewise hailed the Greek Cypriots' "creative approach" to the conflict's resolution and faulted Turkey for "not duly responding to these steps." Official Nicosia, for its part, praised Armenia's "constructive efforts" to settle the Karabakh conflict.