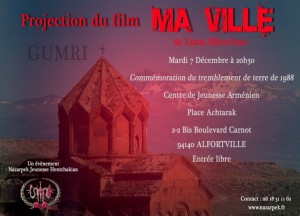 On December 7, 1988, an earthquake measuring 6.9 on the Richter scale devastated the region of Spitak. In less than 8 seconds, about 25,000 Armenians were killed, mostly in the rubble of buildings not designed to withstand such an earthquake.
The towns of Gyumri (formerly Leninakan), Spitak, Kirovakan, Stepanavan, Vanadzor are severely impacted. Thousands were left orphaned and homeless; entire cities had to be rebuilt.
The earthquake hit 21 cities in these regions, as well as 350 villages, 58 of them were completely destroyed.
The "Nazarbek" S.D. Hentchakian Youth Organization will be commemorating this agonizing moment in Armenian history by screening the documentary "MY TOWN" by Liana Mkhrtchian, which tells the story of Gyumri, its culture and traditions.
The screening will be on December 7, 2010 at 8:30 p.m. at the Armenian Youth Centre, Place Achtarak, 2-2 bis Bd Carnot à Alfortville.