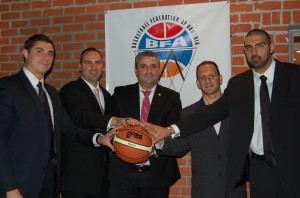 GLENDALE — On March 22, 2012, The House of Armenia celebrated and officially introduced the Armenian Men's National Basketball team to the community and media. The team, comprised of both Armenian-American, Armenian national and international athletes is led by Head Coach Carl Bardakian, a Los Angeles based and well-experienced basketball coach. Armenia's new National Team reflects the strong and further developing bonds between the Republic of Armenia and Diaspora.
The men's team is looking forward to achieving the same success which the Armenian Women's National Basketball team had in 2011, by winning the silver medal in the European Championship. In order to reach their goal of entry into the European Championships in June 2012, the men's team is currently accepting offers for sponsorships. The young men chosen for the team have expressed immense passion, determination and undoubtedly possess the talent to make it far within the International Basketball Federation.
The official introduction of the National Team was witnessed by some of the most prominent and successful sportsmen present and past, who offered words of encouragement to the young men as they embark on the European Championships this summer. Among the sportsmen and athletic figures were Sergei Bondarenko (Ararat 73) and Vanes Norik Martirosyan, as well as world and Olympic champions such as Vasken Sogoyan and Arthur Akopian. On behalf of the community and Consulate, Consul General Hovhannissian conveyed immense pride and faith in the talents and capabilities of the men's team.