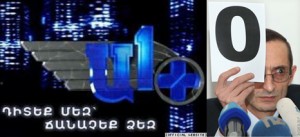 YEREVAN — At its December 16 meeting the RA Television and Radio Commission announced the results of contests for broadcasting licenses. The A1+ TV Company was denied a license once again.
The results of the supposedly competitive process published by the National Commission on Television and Radio (HRAR) on Thursday showed A1+ yielding by far to the operating TV channel, ArmNews. A1+, represented by Meltex Ltd., received only 2 points from the commission. In contrast, the company representing ArmNews, a TV station that currently alternates its news programs with half-hourly retransmissions from pan-European news channel EuroNews, received 44 points. Seven of the eight Commission members did not give any points to A1+. Ara Tadevosyan, Director of the Mediamax agency, was the only Commission member that gave A1+ and ArmNews two points each.
HRAH head Grigor Amalian said A1+ had submitted a number of fraudulent financial documents bearing the seal of a British-registered company that stopped operating in 2007.
In an interview with RFE/RL's Armenian service, however, Meltex director Mesrop Movsesian denied presenting any false documentation, arguing that the company in question has affiliates in different countries, which accounted for the confusion.
This is the 13th time A1+ has failed to regain its broadcasting right since 2002 when the country's arguably sole TV station critical of the authorities controversially lost it in a similar licensing competition.
Local and international media watchdogs have repeatedly criticized the Armenian government for keeping A1+ off their air and many have viewed this attitude as retribution for the company's critical news reporting.
This criticism was stoked by the ruling of the European Court of Human Rights issued in favor of the company in June 2008. The Strasbourg-based court fined the Armenian government over the HRAH's consistent rejection of A1+ applications for a new frequency in what, it said, constituted a violation of the "freedom of expression" article of the European Convention on Human Rights.
Still, A1+ was not immediately offered an opportunity to regain its broadcasting license as shortly after the European Court's decision the Armenian authorities controversially suspended the licensing process, citing the need for expediting the country's transition to mandatory digital broadcasting.
The latest tender in which contests for only two frequencies have been competitive is the first to be held after the suspension term expired last summer.
Meanwhile, in the other competitive bidding, ALM, a TV company run by a media holding owned by controversial television pundit and leader of an extra-parliamentary political party Tigran Karapetian, lost to another working TV station 'Yerevan'.