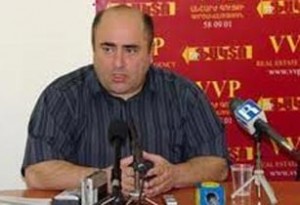 YEREVAN — Social Democrat Hunchakian party official, Parliamentarian Vardan Khachatryan at a news conference expressed the concerns of the party towards the Karabakh conflict and the stagnant political and economic situation in Armenia.
According to the MP the released U.S. diplomatic cables by Wikileaks created a counterproductive atmosphere at the OSCE Summit in Astana, the Social Democratic Hunchakian Party had no expectations from Astana. "The summit did not serve its purpose, and there was no concrete progress," the MP said, criticizing the final document of the summit which contains "a large number of contradictions." However the MP positively assesses Serzh Sarkisian's speech at the summit in comparison to earlier summits where "we witnessed unilateral statements by the Azerbaijani leader only, which contradict the logic of the negotiating process."
Regardless of Azerbaijani aggressive statements, Azerbaijan will continue the Karabakh talks in OSCE Minsk Group format, "as is evident by the statement of "New Azerbaijan" party Vice-President, who concedes Azerbaijan is forced to search for a settlement of the Karabakh conflict within the frameworks of the OSCE Minsk Group. But at the same time Baku is trying to mischaracterize and redefine the conflict and gain support in different international organizations including Islamic Nations Organization." Stated the MP, noting that it is difficult to tell how the process will proceed.
Meanwhile, MP Vardan Khachatryan remarked that political and economic situation in the country is rather strained, and only the authorities, not the opposition, are responsible for the economic situation. "If the authorities fail to take action to improve the situation, it will be hard for them to secure seats in the parliament during the 2012 election," he said.
Commenting on the existing tensions within the ruling coalition and the opposition, Khachatryan said that they are "not only of political but also of socio-economic nature." As for developments on the opposition front, the current processes may result in unifications, re-unifications and even re-arrangements. However, he said that the real situation could be evident only three months before the election time.