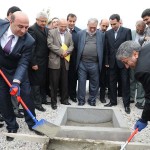 Armenia and Iran will start building two major hydro-electric stations on their border early next year, the energy ministers of the two states said after talks in Yerevan on Friday.
Armenian Energy Minister Armen Movsisian said on September 16 that work on the $323 million project will start during his Iranian counterpart Majid Namju's upcoming visit to Armenia.
However, the two men only signed a memorandum reaffirming their governments' decision to launch the construction, which is due to take five years. "This year is coming to an end, so it will start next year," Movsisian said at the signing ceremony.
His deputy Ara Simonian clarified that the construction will get underway next spring. "The construction will be done under direction oversight of the Armenian side and meet our technical standards," Simonian told journalists.
"We, the ministers, are determined to announce the launch of this very important project as soon as possible," Namju said, for his part. He said final details of the project will be worked out during Prime Minister Tigran Sarkisian's visit to Tehran slated for the end of this month.
Sarkisian and Namju discussed the matter at a meeting earlier in the day. According to the Armenian government's press office, they both underlined its importance for the development of Armenian-Iranian relations. Namju stressed Iran's readiness to develop and foster relations with Armenia, particularly in the sphere of energy.
The two power plants will be built on either side of the Arax river marking the Armenian-Iranian border and have a capacity of 130 megawatts each. They both are to be built by an Iranian company, Farad-Sepasad.
Movsisian said last month that Armenia will finance its share of the project with electricity to be generated at the facility and supplied to Iran . "We will need 15 years to pay back the [Iranian] investments with electricity supplies," he said, adding that the plant will then become property of Armenia.
Namju and Movsisian inaugurated on Thursday the launch of another Armenian-Iranian energy project. It involves the construction of a third high-voltage transmission line linking the two countries' power grids. The line will allow for a substantial increase in Armenian electricity exports to the Islamic Republic.
That electricity is to be generated at Armenian thermal-power plans using natural gas supplied from Iran. Iranian gas deliveries to the country began in May last year.