YEREVAN — "The 7-month blockade of the Lachine Corridor and total siege of Nagorno-Karabakh people is having an irreversible and devastating impact on the lives of people: NK resident children 3 y/o Leo and 6 y/o Gita died as a consequence of the serious humanitarian situation," tweeted Armenian Foreign Minister Ararat Mirzoyan. "In the 21st century. This should not be tolerated."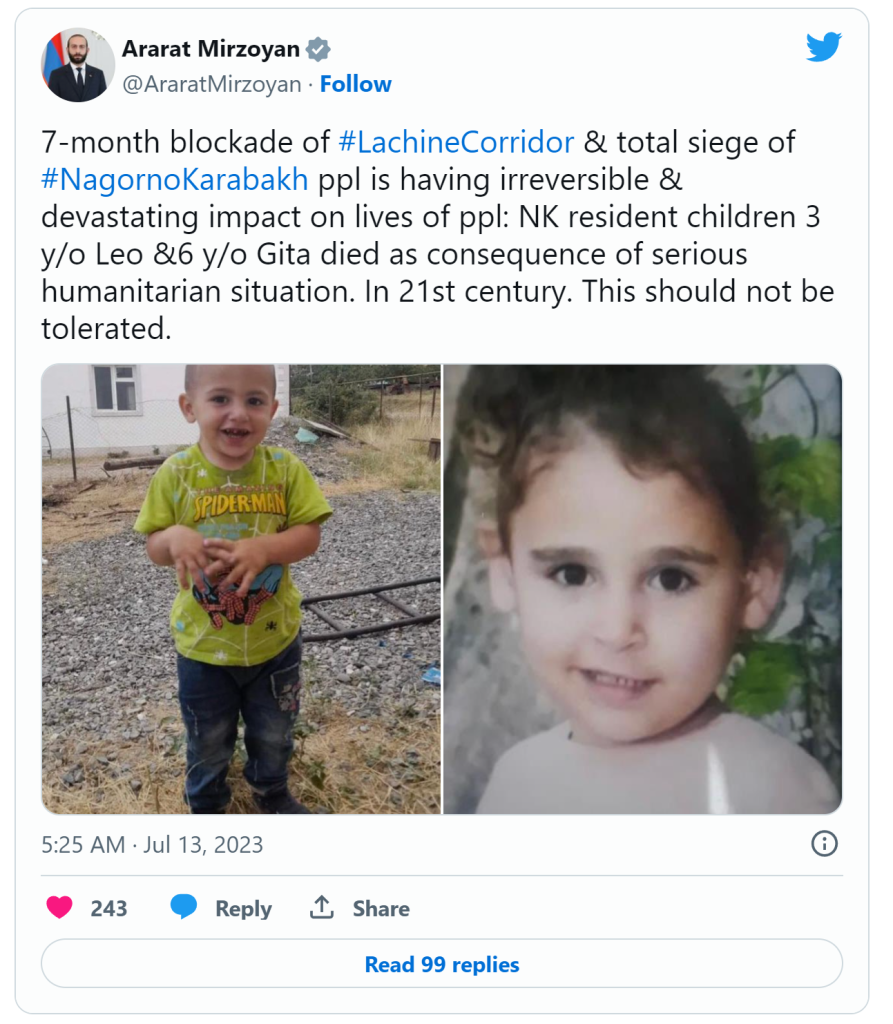 The children were found dead in a car in the town of Markatert on July 8 one day after disappearing from their home in the nearby village of Aghabekalanj.
Their single mother, Vera Narimanyan, left them home alone to go to Martakert to receive sunflower oil and sugar as humanitarian aid. They were gone after she returned to the village about two hours later.
"I spent the whole night searching for them with the police, firefighters and army but didn't find them," Narimanyan told RFE/RL's Armenian Service on Wednesday.
"I will be devastated for the rest of my life," she said.
The infants were caught on security cameras going to Martakert on foot late on July 7. A town resident found them dead in his car the following morning. He said that one of the car's doors was not locked.
The Karabakh police suggested that Leo and Gita died in their sleep from vehicular heatstroke.
Azerbaijan tightened the blockade on June 15, completely blocking emergency supplies of food, medicine and other essential items to Karabakh which were carried out, in limited quantities, by Russian peacekeepers and the International Committee of the Red Cross. It thus significantly aggravated the shortages of basic foodstuffs Artsakh rationed since January.
Officials in Stepanakert say they are especially concerned about growing child malnutrition resulting from the blockade.
"When I tell our kids to draw anything they want, they draw fruits because they miss them," the director of a local kindergarten told RFE/RL's Armenian Service on Thursday.