YEREVAN — The President of the Republic of Armenia, Vahagn Khachaturyan, received the members of the Central Committee of the Social-Democratic Hunchakian Party (SDHP), headed by the Chairman of the Central Committee, Hambik Sarafian on Tuesday.
In his welcome remarks, President Khachaturyan thanked the representatives of the SDHP for their work and efforts in processes of nationwide importance.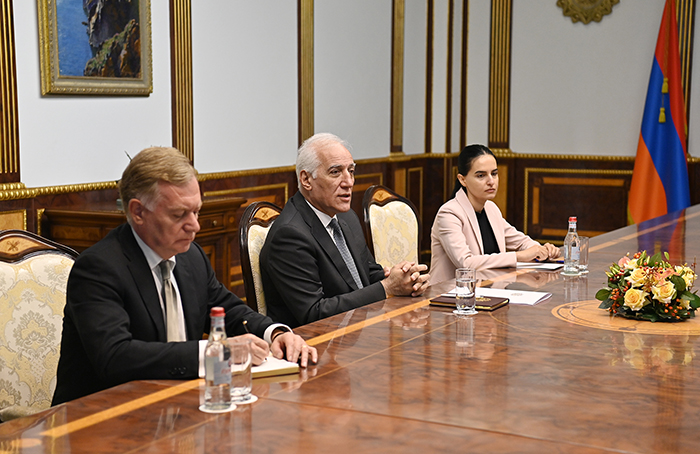 "I also want to thank you for your stance. We need to jointly combat the challenges facing our country at present. I am aware that you are familiar with the situation very well; you are constantly in contact with the Government, and you participate in consultative meetings with extra-parliamentary political forces. Thus, you are quite informed.
This means that you, in turn, present the realistic image and reality in our country during the contacts with our compatriots in the Diaspora.
Conveying information is a key aspect of our work nowadays. When I am abroad, I make sure to meet with representatives of our community, and I notice that one of the main issues is the lack of information, as well as disinformation. You are doing an important job in that context by passing on the information. It is difficult for a person living abroad to find the truth in this endless flow of information, and in many cases, it is even impossible to find it," President Khachaturyan noted.
The President assured that the Government of the Republic of Armenia, admitting and understanding all the vulnerabilities and difficulties, follows the path it has embarked on. "We believe that the solution to the existing situation should be sought solely around the negotiation table, and we should bring the idea of peaceful coexistence with our neighbors to life. However, this does not imply that it should be done at the expense of our dignity or the territories of the Republic of Armenia. We all have to assess our further actions and move forward," the President noted.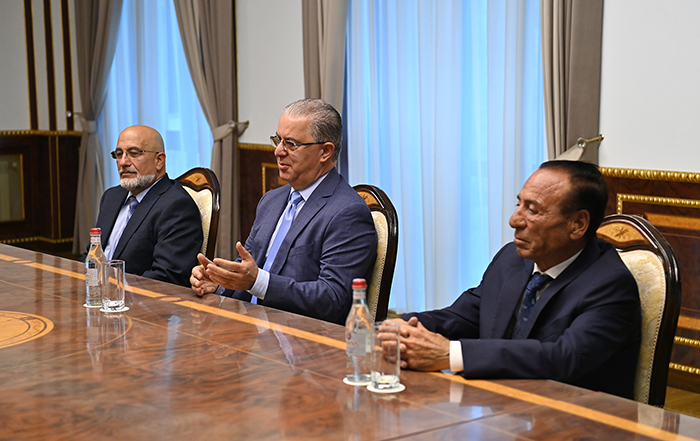 Hambik Sarafian, the Chairman of the Central Committee of the SDHP, expressed his gratitude for the reception. "We agree with your observations. We need an open dialogue with the people both in Armenia and the Diaspora… We are in a difficult situation, and people need to be provided with accurate information, free from political manipulation and non-misleading. We have always expressed willingness and approached this matter with determination, and we always talk about the difficulties as well as the successes," Hambik Sarafian noted.
During the meeting, the sides touched upon the existing challenges, priorities, and security issues. The members of the Central Board of the Social-Democratic Hunchakian Party reaffirmed their willingness to be actively involved and provide support in the search for solutions to the problems facing our country and to join efforts in addressing pan-Armenian issues.