YEREVAN — China has donated 200 new ambulances to Armenia as part of its continuing economic assistance to the South Caucasus country.
The vehicles fitted with modern medical equipment were officially handed over to the Armenian side on Wednesday at a ceremony attended by Prime Minister Nikol Pashinian, Health Minister Arsen Torosian and other senior Armenian officials. Two-thirds of them are due to be distributed to public ambulance services outside Yerevan.
Torosian stressed the significance of the $13 million donation, saying that 65 of those vehicles are intensive care ambulances that will enable Armenian doctors to save more lives when providing first medical assistance.
China's ambassador in Yerevan, Tian Erlong, said Chinese specialists have trained about 350 Armenian doctors, nurses and ambulance drivers to use the new equipment.
China already donated 88 ambulances to Armenia in 2011. Its plans to provide more such vehicles and medical equipment were first announced by the former Armenian government last year.
Chinese government aid to Armenia has totaled at least $50 million since 2012. It includes 250 Chinese-manufactured buses donated to Yerevan's public transportation system six years ago.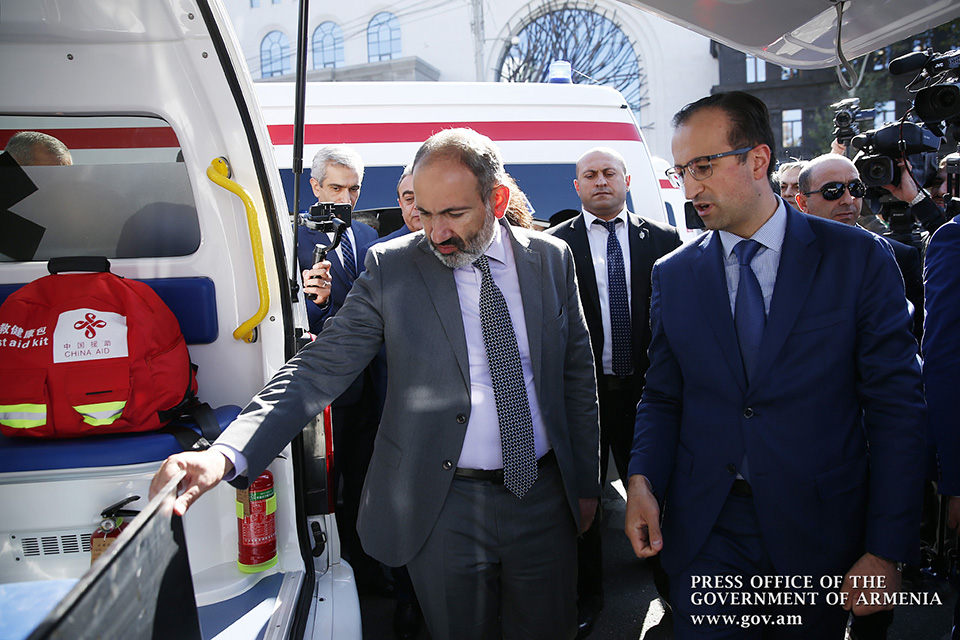 Tian attributed this "selfless" aid to what he called centuries-old "friendship of our peoples." "I am confident that China and Armenia will continue to cooperate in various areas and that Chinese-Armenian ties will be continuous and strong," the envoy said at the ceremony.
Political relations between the two nations have been cordial ever since Armenia gained independence in 1991. Chinese President Xi Jinping and his then Armenian counterpart Serzh Sarkisian reported "mutual understanding on issues relating to pivotal interests and concerns of the two countries" after talks in Beijing in 2015.
The current Armenian government seems keen to maintain the warm rapport with Beijing. Pashinian said China and Armenia share "many common interests" when he attended the inauguration in August of a new school in Yerevan where hundreds of Armenian children study the Chinese language.
The Chinese government spent over $12 million on building and equipping the school. Intensive language courses there are taught by Chinese teachers.
China further underscored its interest in Armenia last year when it started building a new and much bigger building for its embassy in Yerevan. The vast embassy compound is due to be completed by the end of 2019. It will reportedly be the second largest Chinese diplomatic mission in the former Soviet Union.
China has been Armenia's second largest trading partner for the last several years. According to official Armenian statistics, Chinese-Armenian trade soared by nearly 50 percent, to $342 million, in the first half of this year.