GLENDALE – The Glendale City Council unanimously approved the design principles for a reimagined Central Park including the future downtown Glendale site of the Armenian American Museum, marking a major milestone for the historic project.
The City of Glendale's staff and urban design firm, SWA, presented their proposal for the Central Park block at the Glendale City Council meeting on Tuesday, December 5, 2017. SWA envisions a new prominent gathering space in the heart of Glendale's Arts and Entertainment District with increased green and open space, vibrant public amenities, and diverse cultural programs. SWA's proposal calls for the creation of a new Central Open Space that would connect the Downtown Central Library, Adult Recreation Center, and Armenian American Museum as well as the creation of a new Forest Park that would feature a large forested park space and children's playground. New and expanded paseos would provide walking paths connecting the Central Park block to Brand Boulevard and The Americana at Brand.
Since May 2017, officials from the City, SWA, and Museum have been working collaboratively to develop a unified vision for the downtown Glendale site. Armenian American Museum representatives expressed their support for the framework presented during the Council meeting.
"Our City will benefit tremendously from creating a space between the Central Library, Armenian American Museum, and Adult Recreational Center that will integrate its civic, cultural, and senior facilities in the Central Park block and create new public spaces and recreational opportunities for our City and its residents," stated Museum Executive Committee Chairman Berdj Karapetian.
"Just imagine what we are creating for the future of Glendale," stated Armenian American Museum Architect Aram Alajajian. "This is going to be a wonderful project for all of us. It is a legacy project to stay."
Prior to voting on SWA's proposal, Glendale City Councilmembers shared comments and expressed their strong support for the project.
"I'm delighted that we have reached this point," stated Councilmember Paula Devine. "The Armenian American Museum is going to be fantastic. I'm so happy that we are allotting 92,000 square feet for park space."
"The Armenian American Museum is going to be a very vibrant addition to an exciting downtown that we are going to have," stated Councilmember Ara Najarian. "It is something that we are all going to be very proud of."
"We have come to a point where there is a resolution that is great for Glendale and the Museum," stated Councilmember Zareh Sinanyan. "The end result is truly going to activate the whole area including the entirety of the park."
"It can't be any better… all three sides including the City staff, SWA, and Armenian American Museum are in agreement," stated Councilmember Vrej Aghajanian. "Everybody is happy with the design that has been provided to us."
"Thank you to SWA and City staff for coming together on this important project," stated Mayor Vartan Gharpetian. "This is a landmark project that is going to put Glendale on the map. I support this project wholeheartedly."
Glendale City Council's unanimous approval clears the way for community outreach efforts to begin in January 2018 and officials anticipate the signing of the ground lease agreement and final approvals to be completed in April 2018.
For more information about the Armenian American Museum, visit www.ArmenianAmericanMuseum.org or call (844) 586-4626.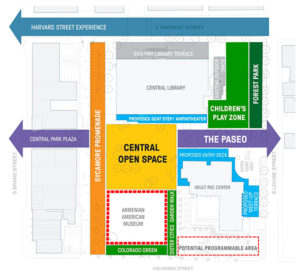 About Armenian American Museum
The Armenian American Museum is a developing project in Glendale, CA, with a mission to promote understanding and appreciation of America's ethnic and cultural diversity by sharing the Armenian American experience. When completed, it will serve as a cultural campus that enriches the community, educates the public on the Armenian American story, and empowers individuals to embrace cultural diversity and speak out against prejudice.
The governing board of the Armenian American Museum consists of representatives from the following ten Armenian American institutions and organizations: Armenian Catholic Eparchy, Armenian Cultural Foundation, Armenian Evangelical Union of North America, Armenian General Benevolent Union – Western District, Armenian Missionary Association of America, Armenian Relief Society – Western USA, Nor Or Charitable Foundation, Nor Serount Cultural Association, Western Diocese of the Armenian Church of North America, and Western Prelacy of the Armenian Apostolic Church.