YEREVAN — Twenty-five members of Knights of Vartan and Daughters of Vartan, including newly-elected Grand Commander Dr. Gary Zamanigian, Grand Recorder Deacon Richard Norsigian, Past Grand Commanders Steven Kradjian and Vahram Fantazian, visited the homeland on a mission trip from September 16-24, 2017.
The week-long trip was filled with number of visits and celebrations with existing and new projects, sponsored by Knights and Daughters of Vartan. Seeing the children dancing and performing in at various schools and homes they support filled every Knight's and Daughter's heart with pride and reminded the delegation of what the Knights of Vartan is about – to protect the Armenian homeland and church, build leaders and families, and maintain the Armenian spirit.
The first visit of the Knights of Vartan delegation was to Holy Etchmiatsin, to receive the blessing of His Holiness Karekin II to carry on the brotherhood's mission and dedication. A respectful visit was made to Mr. and Mrs. Alex and Marie Manoogian's graves at Holy Etchmiatsin. Mr. Alex Manoogian was a Past Grand Commander of the Knights of Vartan and Marie Manoogian was a Past Matron of the Daughters of Vartan. With the help of Archbishop Paren Avedikian, a small ceremony of soul blessing was conducted at the gravesite, where the delegation placed carnations.
The delegation then paid a respectful visit to the Armenian Genocide memorial, with carnations laid, and then made a stop at the museum, where a guided tour was organized. Knights of Vartan Past Commander Hirant Gulian donated books about the genocide to the museum.
Knights of Vartan delegation members were invited to 6th Armenia-Diaspora Pan Armenian Conference. Grand Recorder Deacon Richard Norsigian submitted a paper on "The Issue of Preserving Armenians and Its Educational Needs within the American-Armenian Community".
It has been almost two years since the Knights of Vartan Sport and Cultural Center was initiated and built in borderline Verin Karmiraghbyur community of Tavush marz. It is planned to serve at least 7 communities with total 22,000 population. These include Verin Karmiraghbyur, Norashen, Movses, Artsvaberd, Aygedzor and Chinary. The aim is to have a high standard education center for children living in border villages, which would help them to grow strong and healthy and continue their life in their home communities after growing up.
On September 19th the Knights of Vartan delegation had the opportunity to visit Verin Karmiraghbyur for dedication of two soccer fields, where 40 kids practice already. A lovely concert and chat with the community followed.
Another major project implemented by Knights of Vartan is in the town of Aparan. Here both a school and a kindergarten have recently been renovated in leveraged matching funds collaboration with the Armenian Territory Development Fund. The visit of Knights of Vartan delegation was welcomed by the entire community, led by mayor Gor Abrahamyan.
The Khangeldyan family from Nor Kharberd village, Ararat region, was honored to host the Knights of Vartan delegation in their new home built by the Fuller Center for Housing Armenia and sponsored by Knights and Daughters of Vartan last year. Now the house is completed and honored guests joined for a special home dedication ceremony conducted by Knight Der Dajad Davidian.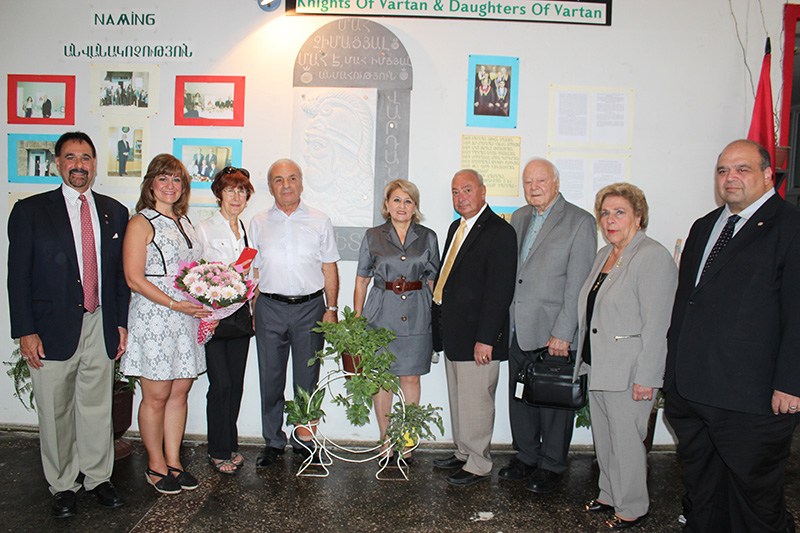 A high school in Yerevan was named after Knights of Vartan who sponsored this school beginning 30 years ago. On this trip, the Knights of Vartan delegation visited the Knights of Vartan School to make new connections with staff and students, and it is symbolic that a parade dedicated to Independence of Armenia was performed at the school on the day of the delegation visit. Pupils marched proudly, sang and danced. In the past the Knights of Vartan supported a number of projects of the school, including roofing and central heating system renovations and teachers' support through the years, and now new plans are being developed for more improvements. During the event, a wall sculpture of Vartan Mamikonyan was officially unveiled, with honored guests in the hallway of the school. The author of the sculpture is school teacher Arthur Hovhannisyan.
For over 15 years the Knights of Vartan has supported more than 500 students from Yerevan State University and National Polytechnic University of Armenia. Each of the selected students receive a stipend toward their education, as they come from low income families. The Grand Commander and Past Grand Commander made visits to several school officials and discussed plans of future cooperation.
A similar collaboration with American University of Armenia will start soon to support students as well.
A number of Knights and Daughters of Vartan members are also involved in different charitable projects, and to make it possible to visit all of them, the delegation was split into smaller groups for additional monitoring and collaboration visits. Most these visits were on the grassroots level, with donations for the ongoing projects and discussion of plans for future projects.
The last meeting before their return back to U.S.A. was with the Minister to the Diaspora, the Honorable Hranush Hakobyan to discuss strategic ideas for the Knights to adopt additional long term community development ideas. Additional discussions are underway for this important effort.
At the conclusion of the weeklong mission trip was a celebration with the Knights and Daughters of Vartan delegation. The members shared with Mission Partners their sentiments about why the mission of Knights of Vartan is so important for the Armenians both in USA and Armenia.
For more information about the Knights and Daughters of Vartan, visit http://kofv.org.