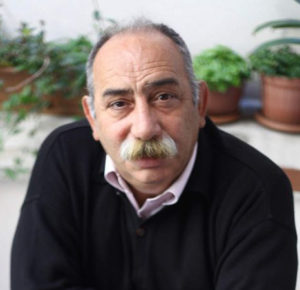 YEREVAN (Armenpress) –The Turkish constitutional changes referendum cannot in any way be called reforms, Bagrat Estukyan, editor-in-chief of the Armenian language department of Istanbul's Agos weekly told Armenpress.
Estukyan added as result of the referendum the President will have autocratic powers.
"AS result of all this, there will be dictatorship power in Turkey, therefore the constitutional referendum cannot in any way be called reforms", he said.
Estukyan said the Armenian community of Turkey was against the constitutional changes, and everyone voted no.
"But unfortunately "yes" won, which was expected. After all of this the political situation in the country will be more difficult", he said.
Asked what was the reason that voters mostly voted against the changes in major cities, Estukyan said because Turkey isn't a homogeneous country.
"There are national minorities in Turkey, people of different religion. For instance in Dersim, which is a mainly Alevi populated city, "no" won by 80%. And in general, the Christian population of Turkey mostly voted against the changes. This is how the voting differences in different parts of the country can be explained", he said.
The constitutional referendum was held in Turkey on Sunday. Yes campaign won 51.41% of the votes, while No got 48.59%. Turnout was said to be around 85%. Erdogan declared victory last night before the official results.
However, the decision of the Supreme Electoral Board of Turkey (YSK) raises concerns about the validity of the voting. Yesterday evening, after the polls were closed, YSK declared that unstamped ballots will be considered as valid unless they were proved to be fraudulent. Making a statement last night, Sadi Güven, head of YSK, said that they made this decision in order not to violate people's right to vote just because the officials failed to stamp some ballot papers, after they received a high number of complaints and an AKP representative demanded such a decision.
He also added that official results were expected in 11-12 days.