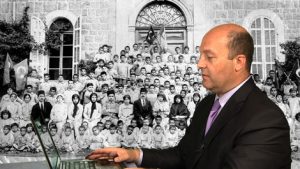 MISSION HILLS — Maurice Missak Kelechian an independent researcher will give a talk entitled "Antelias prior to the Catholicosate of Cilicia" on Sunday, March 19, 2017, at 4:00 p.m., at the Ararat-Eskijian Museum—Sheen Chapel, 15105 Mission Hills Road, Mission Hills, CA. The lecture is co-sponsored by the National Association for Armenian Studies and Research (NAASR).
This illustrated presentation will present a complete journey through Antelias between the years 1922 and 1932. Topics covered will include the history and geographical location of Antelias, the Near East Relief orphanage from the original tents to the construction of barracks, and the first wooden church of Antelias. Kelechian's most recent research has focused on two orphanages in Lebanon: in Antoura where, between 1915 and 1918, around 2,000 orphans were gathered and Turkified by Jemal Pasha and Halide Edib Adivar; and at Ghazir where, in 1925 the "In Golden Rule Gratitude" special rug was woven by the orphan girls and sent to the U.S. President, Calvin Coolidge, to be displayed at the White House. Maurice Missak Kelechian is an electrical engineer by training, an independent researcher known for his research and discoveries of Armenian historical documents, photos, monuments, and heritage sites. Currently he resides in Los Angeles and works in the biomedical field. In this lecture,
For more information about Maurice Missak Kelechian's talk, contact the Ararat-Eskijian Museum at (747) 500-7585 or Ararat-eskijian[email protected], or NAASR at (617) 489-1610 or [email protected].