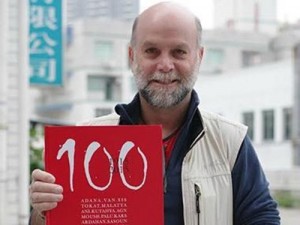 MISSION HILLS — Hrair "Hawk" Khatcherian will give a talk entitled "Khatchkars: A photographic journey on Saturday April 1st, 2017, at 5:00 p.m., at the Ararat-Eskijian Museum—Sheen Chapel, 15105 Mission Hills Road, Mission Hills, CA. The lecture is co-sponsored by the National Association for Armenian Studies and Research (NAASR).
Hrair Hawk Khatcherian was born in Lebanon in 1961. He has spent almost three decades presenting exhibitions, conferences, and photographic lectures around the globe. His photographs have appeared in numerous magazines, newspapers, books and publications. Khacherian has published more than a dozen photography books, including Artsakh: A Photographic Journey (1997), Karabakh: 100 Pictures (2002), Yergir (2005), Armenian Ornamental Art (2010; in collaboration with Armen Kyurkchyan), Yergir 2 (2011), Armenian Ornamental Script (2012), One Church One Nation (2013), and 100 (1915-2015). Khatch means cross in Armenian.
"Born with a predestined family name as Khatcherian, I could not help but witness and photograph khatchkars, a mission—among others—to which I have been devoted since 1992.
Twenty-four years of photography, crosses, stones, shapes, details. Adam, birds, Christ and pomegranates, hell, heaven and earth, cow dung, mud, rain, hail, clouds and sun. Reflectors, tripods, cameras, ash, tape measure. Cars, boats, airplanes, helicopters. Photoshop, InDesign, Google Earth, books, research, planning, travels, discoveries, the four seasons, friends, tuff rocks, basalt. Master carvers who dedicate their art and creativity for important events and victories even for a birth of a village, or to important victories, or even an ordinary birth, in Artsakh, in Armenia, in Western Armenia and Cilicia, in Iran, in Georgia, in Bethlehem and Jerusalem, in Lebanon and in Crimea, in Venice, as well as in museums worldwide. In this book you will find some samples from my photography archives which contain thousands of Khatchkars, you will travel through time, space and history. Here is a book that will never be completed".
For more information about the event, contact the Ararat-Eskijian Museum at (747) 500-7585 or Ararat-eskijian[email protected], or NAASR at (617) 489-1610 or [email protected].
org.