YEREVAN (Arka) — Armenian General Benevolent Union's (AGBU) Armenian Virtual College (AVC) and 'My Armenia' funded by USAID and implemented by Smithsonian Institution will release a multimedia e-book to boost tourism and cultural preservation in Armenia's Vayots Dzor region.
Speaking at news and a signing ceremony celebrating the co-publishing partnership and the launch of an exciting journey of developing tourist-friendly interactive content, Vasken Yacoubian, AGBU Armenia President, AGBU Central Board Member, said tourism is one of the priority and dynamically developing sectors in Armenia.
'Committed to its mission of supporting Armenia's socio-economic progress, AGBU is actively engaged in development and promotion of such innovative products that will contribute to the country's efforts in positioning Armenia as a unique tourist destination attractive for people of all age groups and diverse interests," he said.
The Vayots Dzor e-book is part of AVC's multiplatform media product series accessible from smart phones, tablets or web browsers. The new e-book will cover historical and geographic context of Vayots Dzor region, and will contain a rich spectrum of useful information on local gastronomy, architecture, archaeology, festivals, regional events and adventure activities.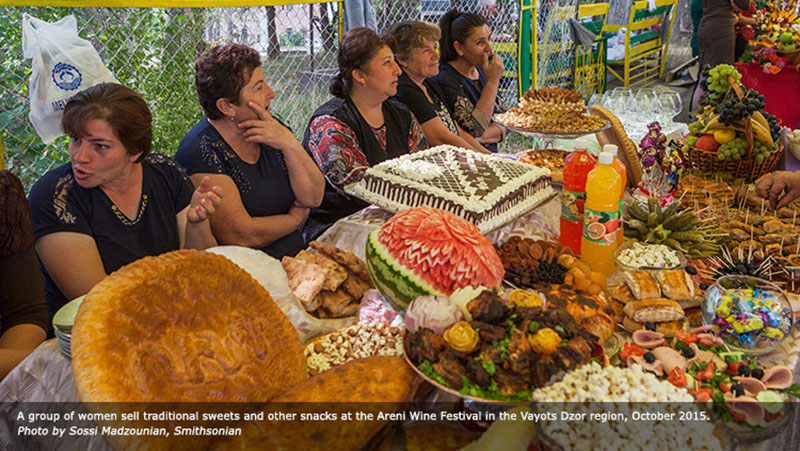 Available in seven languages, subscriptions to the series are free of charge. The first two books of the series are The Armenian Highland and Exploring Yerevan. Armenians in Europe, the third book of the series, is planned to be launched by the end of the year.
"This project comes to add to the mission and continued efforts of the Armenian Virtual College in introducing the Armenian heritage to the world community," said Dr. Yervant Zorian, AVC Founder and AGBU Central Board Member.
"Seeing the popularity of our Multimedia e-Book Series, we believe e-publication is the best means to present the wealth of our heritage in the state-of-the-art manner. We are delightful that the Smithsonian Institution is also committed to developing tourism in Armenia, and are excited about this collaboration. The e-book on Vayots Dzor is going to be part of a series that will be covering various regions of Armenia."
"Through USAID and Smithsonian joint efforts, the "My Armenia" program will aim to demonstrate the productive relationship that can occur between culture and economic development. Enhanced and diversified cultural heritage tourism offerings developed by expertise and efforts of "My Armenia" in close cooperation with our key partners such as AGBU can drive sustainable economic growth to rural communities and support them in improving the sustainability of Armenian cultural heritage," said Olivier Messmer, Chief of party of "My Armenia" Program funded by USAID Armenia and implemented by Smithsonian Institution.