YEREVAN (RFE/RL) — Hundreds of Armenian troops are simulating a peacekeeping operation involving a mobile field hospital in an exercise monitored by NATO officers, the Defense Ministry in Yerevan said on Thursday.
A ministry statement said the 500 or so participating troops are part of the Armenian army's medical service and Peacekeeping Brigade that provides soldiers to ongoing NATO-led missions in Kosovo and Afghanistan.
It said the four-day exercise began in Armenia on Tuesday under a scenario involving evacuation of wounded soldiers by helicopters and provision to urgent medical aid to civilians in a hypothetical conflict zone.
The ministry explained that the Armenian brigade will use it to conduct a "self-appraisal" under NATO's "Level-1" certification of troops from partner states. It released photographs of U.S. and German military instructors watching the drills.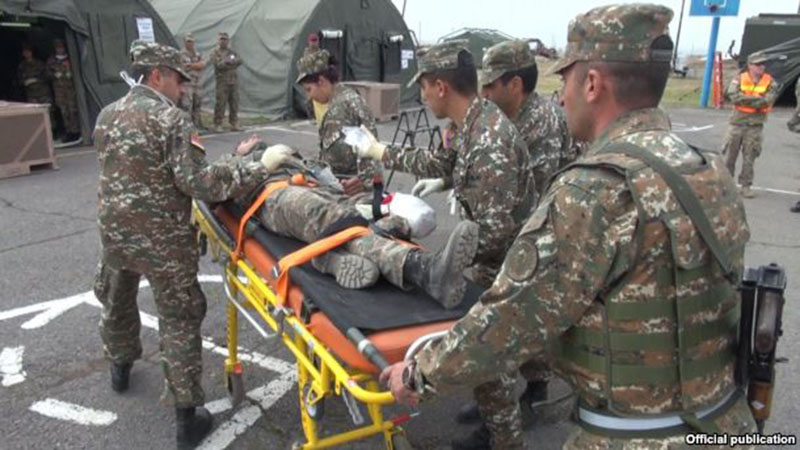 The brigade has received considerable financial and technical assistance from the U.S. and other NATO member states over the past decade. NATO assigned it a "Level-2" degree of combat readiness and interoperability after monitoring a four-day exercise held by it last year.
A total of about 130 Armenian soldiers are currently serving in Afghanistan, Kosovo as well as Lebanon. Addressing a UN peacekeeping summit in Washington in September 2015, President Serzh Sarkisian expressed readiness to expand Armenia's participation in such missions with specialized medical and demining units.
Those units will undergo NATO training before their deployment abroad. U.S. instructors trained in August 2015 the first group of 12 teaching personnel for the Armenian army's newly established paramedic school.
A 32-strong unit of Armenian military medics participated in U.S.-led multinational exercises in Germany in April this year. During the three-week drills, the medics deployed a mobile field hospital that was donated to Armenia by the U.S. military in 2007.