RIO DE JANEIRO — Artur Aleksanyan, the two-time reigning world champion at 98kg, has won Armenia's first gold medal in Rio Olympics defeating Yasmany Daniel Lugo Cabrera, Cuba, 3-0 in the final.
Aleksanyan was completely dominant in his weight class. He won back-to-back matches by technical fall in the quarterfinals and semifinals, defeating Alin Alexuc Ciurariu, Romania, 8-0 and Cenk Ildem, Turkey, 9-0.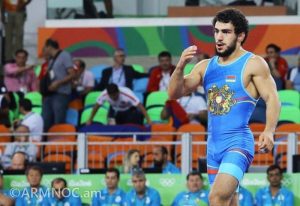 In 66kg division Armenia's Migran Arutyunyan was defeated by Serbia's Davor Stefanek to win silver. The bout ended in a 1-1 score, but Stefanek got the win on criteria because he was the last one to be awarded a point.
in the semi-finals Arutyunyan beat Rasul Chunayev, Azerbaijan, 4-1.