YEREVAN (RFE/RL) — Armed members of a radical opposition group continue to hold four police officers hostage in the Armenian capital two days after they seized a police station, killing one officer.
General Hunan Poghosian, the first deputy chief of the Armenian national police force, said he still hoped the situation would be resolved peacefully. "Talks are under way with the hostage takers," Poghosian told journalists on July 19. "We are doing our best to resolve the situation without bloodshed."
Five hostages have been freed since July 17, when the police station in Yerevan's southeastern Erebuni district was stormed and six people wounded in addition to the slain police colonel. Armenia's Health Ministry says four of those wounded in the initial attack are still hospitalized.
Poghosian said law-enforcement agencies were not ruling out the use of force as a last resort. Lines of riot police gathered outside the building on July 19 while trucks blocked access from adjacent streets.
The attackers have demanded the resignation of President Serzh Sarkisian and the release of Jirayr Sefilian, the leader of the radical opposition movement Founding Parliament, who was arrested last month for allegedly plotting an armed revolt.
Late on July 18, more than 1,000 anti-government protesters rallied on Yerevan's Liberty Square to call for a peaceful resolution to the crisis. A number of protesters wanted to march toward the occupied police station but were stopped by riot police.
They were demanding that police guarantee no force would be used against the dozen or so hostage takers, who apparently are members of a little-known group called Sasna Tsrer, dubbed by some the Daredevils of Sassoun, which is loyal to Sefilian's Founding Parliament. Most of Sasna Tsrer members are veterans of the Nagorno-Karabakh conflict in the late 1980s and early 1990s.
More than a dozen other people were detained earlier on July 18 when they tried to demonstrate near the seized Erebuni compound, which has been cordoned off by security forces.
The Founding Parliament is particularly critical of the way the government has handled the resolution of Nagorno-Karabakh conflict, specially with territorial concessions to Azerbaijan.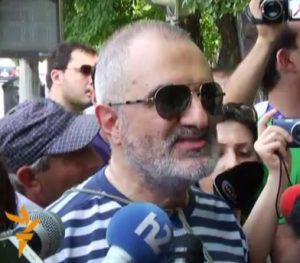 Alek Yenigomshian, a member of the group, said on Tuesday he has been acting as a go-between in negotiations held between the National Security Service (NSS) and the hostage takers.
"Those negotiations continued yesterday and the National Security Service (NSS) submitted a demand-proposal to the 'Sasna Tsrer' armed group," Yenighomshian told reporters.
"Yesterady I met with NSS officials, Zhirayr Sefilian [in prison] and members of 'Sasna Tsrer' group," he said. "I gave them the NSS's demand-proposals, details of which I won't publicize for now. Those guys said they will respond to it tonight at 7 p.m."