YEREVAN — Czech President Milos Zeman said he will urge his country's parliament to recognize the 1915 Armenian genocide in Ottoman Turkey as he paid an official visit to Armenia on Wednesday.
"As a follow-up to my statement, I will appeal to the Czech parliament to follow Germany's example and adopt a similar statement," he told a joint news conference with President Serzh Sarkisian held after their talks in Yerevan.
Zeman visited the Tsitsernakaberd Memorial today, where he laid a wreath and paid tribute to the memory of innocent victims of the Armenian Genocide.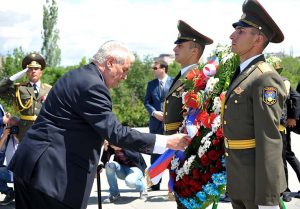 Zeman advocated an official recognition by the Czech Republic of the genocide in an interview with the Czech newspaper "Parlamentni listy" given ahead of his visit to Armenia. "After visiting Armenia I want to make an appeal to the government and parliament of the Czech Republic to follow the example of not only the German Bundestag and the French parliament, where corresponding laws were adopted, but also Russia, Poland, Slovakia, Italy and other countries, because I consider that in this issue we are somewhat behind." He said he will discuss the matter with Czech Foreign Minister Lubomir Zaoralek on his return from Yerevan.
The Czech parliament's foreign relations committee already referred to the World War I-era slaughter of an estimated 1.5 million Armenians as genocide in a statement adopted in April 2015. The issue has not been debated on the parliament floor yet, however.
Sarkisian thanked Zeman for his plans to push for genocide recognition. He also again praised the German parliament for adopting a corresponding resolution last week. The "historic" Bundestag vote showed that "it is impossible to stop the international recognition process by distorting history, denying facts or making threats," the Armenian president said in a fresh jibe at Turkey.