By Hambersom Aghbashian
Sebahat Tuncel (born 5 July 1975 in Yazihan, Malatya- Turkey) is a Turkish politician of Kurdish descent. She is women's rights advocate, former nurse and member of the Turkish parliament. Sebahat Tuncel studied Cartography and Land Surveying in Mersin University and began her political career through the Women's Branch of People's Democracy Party (HADEP)* in 1998. She has also worked with international organizations including UNDP and Amnesty International. Tuncel went on trial for membership of PKK in 2006, accused of making frequent trips to PKK camps in northern Iraq, and was subsequently imprisoned. She ran for the parliamentary elections from prison and after winning a seat in Istanbul with 93,000 votes, was released from custody in July 2007. She was the youngest woman to serve in the Turkish parliament and the first person in Turkish history to be elected to parliament from prison. Sebahat Tuncel served as the Chairwomen of Peoples' Democratic Party -Turkey, from October 27, 2013 to June 22, 2014, and she is the female honorary president of the party since June 22, 2014- incumbent, where the male honorary president is Ertugrul Kurkcu.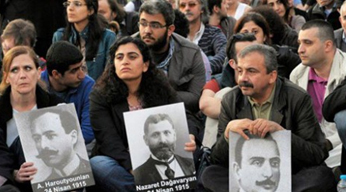 On February 13, 2015, armeniangenocide100.org wrote: According to prominent Turkish writer, publisher and human rights activist Ragip Zarakolu, MP Sebahat Tuncel of Turkey's Peoples' Democratic Party introduced a draft resolution to Turkey's parliament, calling for recognition of the Armenian Genocide and declaration of April 24 a day of mourning. According to Sebahat's motion, Turkey's president Recep Tayyip Erdogan should apologize to Armenians at a historical site, and the most appropriate place is the historical staircase of Haydarpasa terminal, from where Armenian intellectuals were transported by railroad trains and driven into exile and death.(1)
According to thecaliforniacourier.com, December 4, 2014, "A Turkish Parliamentarian submitted a proposal to the Grand National Assembly of Turkey, seeking condemnation of the Armenian Genocide, a series of atrocities, and other acts of state terrorism. In this document, Sebahat Tuncel, member of pro-Kurdish Peoples' Democratic Party (HDP), requests that President Erdogan acknowledge and apologize in Parliament for the Armenian Genocide, massacres of Dersim, Marash, Sivas, and Chorum, mass hangings after the Sept. 12, 1980 military coup, and other Crimes Against Humanity resulting from state terror. The proposed resolution also demands that the Turkish President visit one of the sites of the mass killings, repeat his apology in public, and declare April 24 to be an official Day of Mourning. Within a year, the Parliament is to form a Truth Commission and make public all documents in state archives regarding these crimes. Moreover, moral and material restitution should be provided to descendants of the victims. It is expected that the Turkish Parliament would reject consideration of this proposal. Tuncel must be aware that she is running the risk of having her parliamentary immunity lifted and being prosecuted for bringing up banned subjects under Article 301 of the Turkish Penal Code.(2)
Peoples' Democratic Congress of Turkey (HDK) issued a statement addressed to the Turkish state on December 9 on the occasion of the International Day of Commemoration and Dignity of the Victims of the Crime of Genocide and of the Prevention of this Crime. According to Demokrathaber.net, the statement signed by HDK Co-spokespersons Sebahat Tuncel and Ertuğrul Kürkçü calls on Turkey to face its own history and apologize for committing the Armenian Genocide. On April 24, 1915 the Armenian nation, one of the oldest inhabitants of those territories, was deprived of their motherland. "After 100 years Turkey continues to deny the genocide". "We call on Turkey to end denying the Armenian and Assyrian genocides, apologize for those universal crimes committed against the Ottoman nations whose political successor is modern Turkey", reads the statement.(3)
According to www.todayszaman.com, April 24, 2012, Turks and Turkish-Armenians gathered in Istanbul's central square on April 24, the day Armenians commemorate the anniversary of the genocide in 1915. A sit-down strike organized by the Say No to Racism and Nationalism initiative in Taksim Square was attended by a group of public figures, including wife of murdered Turkish-Armenian journalist Hrant Dink, Rakel Dink; Peace and Democracy Party (BDP)İstanbul deputies Sırrı Süreyya Önder and Sebahat Tuncel; former Freedom and Solidarity Party (ÖDP) head Ufuk Uras; journalists Oral Çalışlar, Hüseyin Hatemi and Hilal Kaplan as well as other intellectuals. Protesters laid carnations in front of a banner that said, "This pain belongs to all of us." Uras told reporters that Turkey will face its history and "shared pain" in building a 21st century democracy. He added that people from all walks of life were present at the sit-in protest. (4)
__________________________________
* People's Democracy Party (Turkish: Halkýn Demokrasi Partisi, HADEP) was a Kurdish nasionalist political party in Turkey. It was founded in May 1994 by lawyer Murat Bozlak. The party distinguished itself from the PKK. At the party congress in June 1996 masked men dropped the Turkish flag and raised the PKK flag. As a result of this, all HADEP members were arrested. The party survived the 1999 closure case but was banned by the Constitutional Court on 13 March 2003 on the grounds that it allegedly supported the PKK. It was succeeded by the Democratic Peoples' Party (DEHAP). In 2010, party's dissolution was unanimously found by European Court of Human Rights to be contrary to Article 11 (freedom of association) of the European Convention of Human Rights.
1- http://armeniangenocide100.org/en/ragip-zarakolu-sabahat-tuncel-genocide/
2- http://www.thecaliforniacourier.com
3- http://www.liveleak.com/view?i=5c8_1449627068&comments=1
4- http://www.todayszaman.com/national_turks-armenians-silently-commemorate-1915-events_278524.html