SAN DIEGO (Prleap.com) – Last week, Thomas Jefferson School of Law hosted a lecture entitled, "Genocide and the Law 101 Years Later." The event was organized by the Thomas Jefferson School of Law Armenian Law Student Association.
The lecture featured famed Armenian American criminal defense attorney Mark Geragos, who had represented several celebrities and was one of the lead lawyers in a pair of groundbreaking federal class-action lawsuits against New York Life Insurance and AXA Corporation for insurance policies issued in the early 20th century during the Armenian Genocide.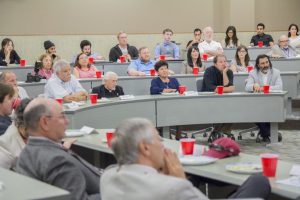 Geragos was introduced by United States District Court Judge and Armenian American Larry Alan Burns, who was the keynote speaker at last year's commemoration event.
"Thomas Jefferson School of Law continues to be a strong supporter of its Armenian Law Students Association and its events," said Armenian Law Student Association Faculty Advisor and Thomas Jefferson School of Law Associate Professor Christopher Guzelian. "I was pleased to see prominent members of the local Armenian community, including three state and federal judges, in attendance. Mr. Geragos gave a dynamic, informative speech about his successful legal efforts to compel American life insurance companies to fulfill their century-old unpaid commitment to insured Armenian Genocide victims."
Concluding remarks were made by Armenian Law Student Association President Meline Grigoryan who also introduced Judge Burns at the beginning of the program. Grigoryan explained that every year on April 24th Armenians around the world unite in one voice to remember and demand justice for the 1.5 million lives lost. Grigoryan emphasized that "by recognizing the past, future crimes against humanity can be defeated and prevented," one of the themes of the lecture by Geragos.
The event was attended by many Thomas Jefferson School of Law students, faculty and staff, showing great interest in the Armenian cause.
Thomas Jefferson School of Law offers a comprehensive legal education to a nationally-based, diverse student body. The non-profit law school is consistently ranked as one of the most diverse law schools in the nation, with 52 percent of its most recent class being students of color. Located in Downtown San Diego, Thomas Jefferson Law has evolved into an innovative, cutting-edge law school, devoted to the individual needs and success of its students. More information is available at www.tjsl.edu.